Yosemite > Library > Four Seasons in Yosemite >
CalHotels.US Lowest Hotel Rates Guaranteed. Click Here For Yours!
Hotel photos, maps, reviews, & discount rates.
U.S. Hotels in California (Yosemite, L. A., San Francisco ), AL, AK, AR, AS, AZ, CA, CO, CT, DC, DE, FL, FM, GA, GU, HI, ID, IL, IN, IA, KS, KY, LA, ME, MD, MA, MI, MN, MS, MO, MT, NE, NH, NJ, NY, OK, NV, MH, MP, NM, NC, ND, OH, OR, PA, PR, PW, RI, SC, SD, TN, TX, UT, VT, VA, VI WA, WV, WI, WY
---
The Four Seasons in Yosemite National Park (1938) by Ansel Adams
---
About the Photographer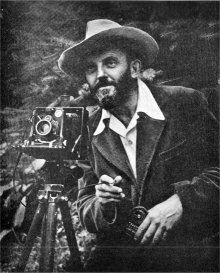 Ansel Adams by F. Malcolm Grany,
circa 1947-1951

Ansel Easton Adams was born February 20, 1902 in San Francisco, California. One day as a boy, his Aunt Mary gave him a copy of In the Heart of the Sierras when he was sick. The book piqued his interest enough to persuade his parents to vacation in Yosemite in 1916. Most of the photographs in the book are by George Fiske, who Adams later emulated in his scenic photographs. However, Adams first interest was in music and learned to play the piano. However, he developed an interest in photography from frequent visits to Yosemite Valley. In 1928, Adams married Virginia Best, daughter of Yosemite photographer Harry Best. In 1935, he inherited his father-in-law's photography store, and the store continues to be operated by the family today. Adams career in photography was difficult at first and had various setbacks in early business deals.

Starting in 1931, Adams was commissioned by the Yosemite Park and Curry Company, the park concessionaire, to produce photographs of Yosemite National Park. The relationship ended when Stanley Plumb, Curry Company's Advertising Director, published this book, The Four Seasons in Yosemite, in 1936 without Adams's knowledge. Adams found out only after finding it for sale while browsing in a gift shop. The contract he had with Curry Company specified Adams was to be paid royalties for all images. Adams sued and the matter was settled out-of-court in 1939 for $500. However, this was the last Adams produced photographs for Curry Company, except for reprints from old negatives.1

After several years more of hard work and publicity, Adams finally achieved fame and money from his photographic work. Ansel Adams died April 22, 1984.

____
1 Alinder, Mary Street, Ansel Adams: A Biography (Macmillan, 1988), pp. 130-132.
---
Bibliographical Information
Ansel Easton Adams (1902-1984), Stanley E. Plumb, editor (1896-1974), The Four Seasons in Yosemite National Park: A Photographic Story of Yosemite's Spectacular Scenery 3d. ed. (Los Angeles: Times-Mirror Printing and Binding House, 1938). Edited by Stanley Plumb. Copyright 1936 by Yosemite Park and Curry Company. 51 leafs, unnumbered. Illustrated with one color photograph; the rest black and white. 31 cm. Map and Half-dome drawing by Della Taylor Hoss (1900-1997). Bound in brown-stamped green paper; saddle-stitched. Textured glassine cover. No LCCN; Library of Congress call number F868.Y6 A33.
Other editions, 1st, 2d, and 4th, were printed in 1936, 1937, and 1940, respectively. The first edition is rare and has about 38 pages.
Converted to HTML by Dan Anderson, May 2008, from a personal copy. These files may be used for any non-commercial purpose, provided this notice is left intact.
—Dan Anderson, www.yosemite.ca.us
---
CalHotels.US Lowest Hotel Rates Guaranteed. Click Here For Yours!
Hotel photos, maps, reviews, & discount rates.
U.S. Hotels in California (Yosemite, L. A., San Francisco ), AL, AK, AR, AS, AZ, CA, CO, CT, DC, DE, FL, FM, GA, GU, HI, ID, IL, IN, IA, KS, KY, LA, ME, MD, MA, MI, MN, MS, MO, MT, NE, NH, NJ, NY, OK, NV, MH, MP, NM, NC, ND, OH, OR, PA, PR, PW, RI, SC, SD, TN, TX, UT, VT, VA, VI WA, WV, WI, WY
http://www.yosemite.ca.us/library/four_seasons_in_yosemite/