Yosemite > Library > Four Seasons in Yosemite > Spring >
Next: Summer • Contents • Previous: Introduction
The Four Seasons in Yosemite National Park (1938) by Ansel Adams
---
SPRING
In most of California the transition from season to season passes almost unnoticed; but in higher altitudes of the mountains, winter snows, spring flowers, lazy summer days, autumn foliage, come and go with dramatic change.
Yosemite is one of Nature's most favored spots. When the warm spring sun has melted the last trace of snow from the Valley floor, meadows turn green and the oaks and maples shoot out their tender leaves. Delicate mountain wildflowers carpet the Valley; dogwood and azaleas burst into bloom; birds return with their gay songs and the black bears leave their winter dens for their haunts among the pine trees near the river.
In April and May the melting snow on the high mountains swells the waterfalls to full flood. Their reverberations are heard throughout the Valley as the waters plunge from the brink of the lofty walls.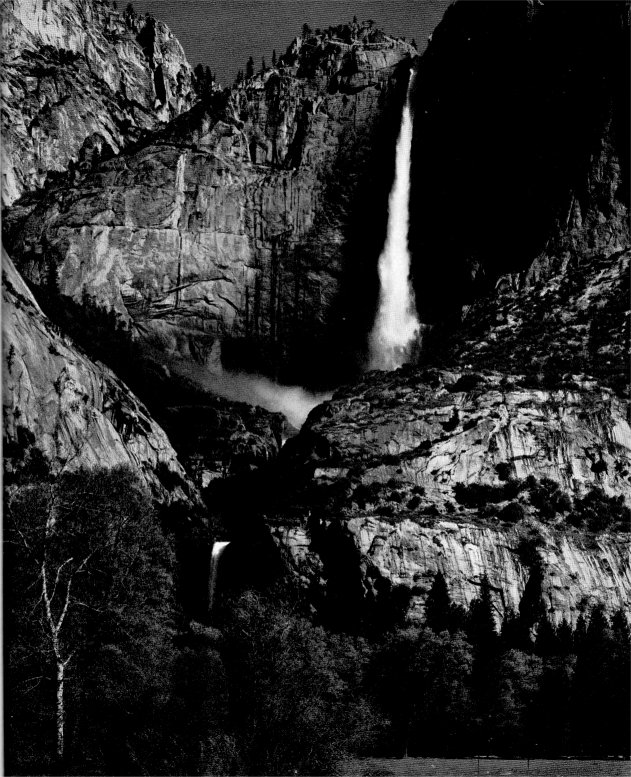 [click to enlarge]
Spectacular Yosemite Falls is one of the world's highest. The upper fall drops 1,430 feet, the middle cascade 815 feet, and the lower fall 320 feet—-a total of 2,565 feet.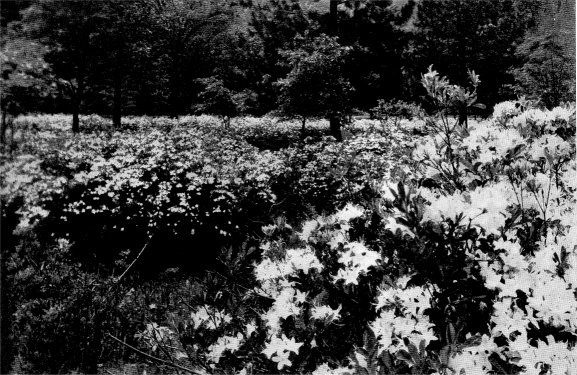 [click to enlarge]


The cool green Valley is strewn with azaleas, Indian paintbrush, and shooting-stars. Along the hanks of the Merced River dogwood blooms abundantly.
The Merced River slides from the rim of the canyon to the Valley floor in a series of two great waterfalls and about three and one-half miles of roaring, white-crested cascades. In the first plunge the river drops 594 feet over a sheer cliff to form Nevada Fall, one of the most spectacular and dynamic of Yosemite's famous waterfalls.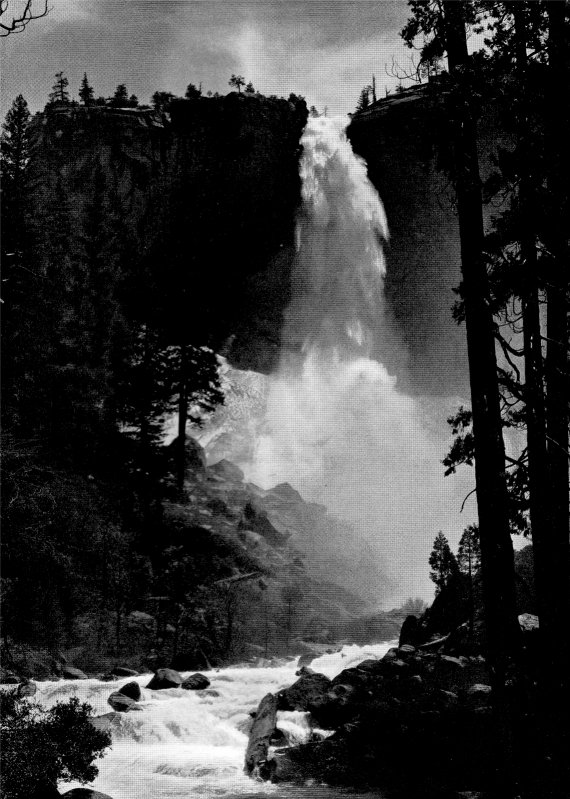 [click to enlarge]
| | |
| --- | --- |
| [click to enlarge] | The Easter Sunrise Service at Mirror Lake in Yosemite National Park has become an annual event of great charm and distinction, attended each year by thousands who come to worship in this beautiful natural setting of cathedral-like cliffs. |
| | |
| --- | --- |
| Graceful, stately Vernal Fall is reached by a well-worn trail which leaves the Valley at Happy Isles. | [click to enlarge] |
BRIDALVEIL
The shifting winds play odd tricks with this great gauze veil of water. A strong gust blows it first to one side, then to the other; sometimes a strong upward draft will hold the water suspended in mid-air. The superstitious Indians called this waterfall "Pohono," meaning "evil spirit," and were frightened. How foolish of them—a mischievous waterfall perhaps, but certainly a gay and beautiful one, and well described by the name "Bridalveil."



[click to enlarge]
---
Next: Summer • Contents • Previous: Introduction
http://www.yosemite.ca.us/library/four_seasons_in_yosemite/spring.html