Yosemite > Library > Guardians > Superintendents >
Next: Second Decade • Contents • Previous: History
Guardians of the Yosemite (1961) by John W. Bingaman
---
Chapter XXIII
PART III—CIVILIAN SUPERINTENDENTS—ASSISTANT SUPERINTENDENTS AND NATURALISTS OF YOSEMITE NATIONAL PARK
| | |
| --- | --- |
| Mark Daniels | July 11, 1914 to May 25, 1915 |
| George V. Bell | June 1, 1915 to November 15, 1915 |
| Mark Daniels | November 16, 1915 to December 9, 1915 |
| Gabriel Sovulewski | December 10, 1915 to March 3, 1916 |
| W. B. Lewis | April 4, 1916 to July 1, 1928 |
| E. P. Leavitt | July 5, 1928 to February 15, 1929 |
| Chas. Goff Thomson | February 16, 1929 to March 22, 1937 |
| John B. Wosky | March 23, 1937 to June 2, 1937 |
| L. C. Merriam | June 3, 1937 to July 30, 1941 |
| Frank A. Kittredge | August 1, 1941 to Nov. 30, 1947 |
| Dr. Carl P. Russell | December 1, 1947 to November 1, 1952 |
| John C. Preston | November 1, 1952 to (1961) to the present time. |
During an illness of Superintendent Lewis in 1926, A. E. Demaray then Assistant Director of National Park Service, was assigned to Yosemite for a period of approximately six weeks during July and August, to take charge of administrative duties.
In the interim between the departure of W.. B. Lewis and the arrival of Charles G. Thomson, Horace M. Albright, then Assistant Director, was assigned to Yosemite for a period of several months.
Prior to the First Civilian Superintendents the army officer in charge of the U. S. Troops, was the Acting Superintendent.
THE FIRST DIRECTOR OF THE NATIONAL PARKS
Stephen Tyng Mather
Born July 4, 1867 in San Francisco, California. Sometime after graduation from the University of California he entered the Borax Company with large holdings in Death Valley and made a fortune. Later Mr. Mather became an industrial tycoon.
During his travels he visited several of the National Parks in the west and was dissatisfied with the manner in which they were conducted. He wrote a letter of criticism to Washington and received a reply from Franklin K. Lane, Secretary of the Interior. Lane was an old college chum and suggested Mather come to the Capital and take charge of the Parks and "run them your way."
He went to Washington to do just that and on January 21, 1915 he was appointed Assistant to the Secretary of the Interior. In 1916 he became the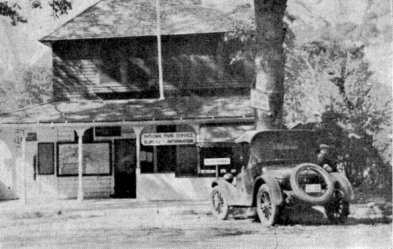 The first park office in Old Village up to 1924

First Director of National Parks, under Franklin K. Lane, then Secretary of the Interior.

Mr. Mather gave freely of his personal fortune for the benefit of the National Parks. He was an outstanding executive with a surprising ability to remember names. Mather would remember a person's name years after their first introduction.

I remember camping with him in Tuolumne Meadows in the early 1920's, he would tell us many interesting stories of the people that lived and contributed to the expansion of the west.

He personally bought the Old Tioga Road and gave it to Yosemite. This road had been constructed in 1882-1883 by the Great Sierra Consolidated Silver Mining Company for the purpose of serving the Tioga Mine. He also gave the Ranger Club House in Yosemite Valley to the Park.

Much of the Park Service ideals and development has been due to the clear vision, enthusiasm and untiring energy of Mr. Mather. It was a great loss and shock to the nation when he was forced to resign as Director due to serious illness. He died January 22, 1930.

Horace Marden Albright

Born January 6, 1890 in Bishop California, a native of Inyo County, Horace's father, George L. Albright came to the Bishop country during the early mining days of the 1870's. He settled first at Aurora, Nevada and was a contractor for the mines. Later he became a funeral director. He also lived in Bishop, California for many years. His mother, maiden name, "Marden", was born in Mokelumne Hill, California. Both father and mother died in Bishop, and are buried in the local cemetery.

Horace attended high school in Stockton, California, and the University of California in Berkeley. He majored in law and graduated in 1912 earning his own way from the age of eighteen and went on to take a post graduate course in mining law. Upon leaving college he became a law clerk and assistant attorney in the Department of Interior in Washington D. C.

When Mr. Mather became Assistant Secretary of the Interior in charge of National Parks in 1915, Mr. Albright was assigned by Secretary Franklin K. Lane to Mr. Mather, as legal aid and adviser. The two became close friends and Albright inspired and encouraged by his able Chief, was given large responsibilities as work progressed.

When the National Park Service was organized in 1916, it was only natural that Secretary Lane should appoint Mather as Director, and Horace Albright as Assistant Director.

When Mr. Mather was stricken with a serious illness the load of the Bureau fell upon the shoulders of Albright. In 1917-1918-1919 he did much in bringing about the creation of additional land for new parks. In 1919 Horace was appointed as Superintendent of Yellowstone Park in Wyoming. In addition be held the post of Field Assistant which necessitated visiting all of the other Parks as well as handling the general legal and adminstrative problems in the west for Director Mather. As a result he was instrumental in writing the policies, and defining the spirit of the National Park Service.

He resigned from the Park Service in 1933 to enter the U. S. Potash Corporation with headquarters in New York, where he served as Director, Vice President, and General Manager. He was also a member of Board of Directors of the U. S. Borax and Chemical Corporation in New York. Horace retired from this Corporation in 1956 and he and his wife Grace made their home in Wykagyl Gardens, New Rochelle, New York.
YOSEMITE'S FIRST SUPERINTENDENT UNDER
PARK SERVICE STATUS
Washington B. Lewis
On March 3, 1916 Mr. Lewis came from Washington D. C. He was a topographer for the first National Geograp[h]ic Society Expeditions to Alaska in 1909. In 1907 he worked on surveys in Wyoming in connection with geological investigations of coal lands and in 1911 went to the Argentine for exploratory surveys in Patagonia.
He had a difficult time with the first development of Yosemite, due to lack of funds, and a tremendous job to get it organized to conform to the Park Service policies.
In the fall of 1927 Mr. Lewis suffered a heart attack. Later he was able to return to his duties but in September 1928 it was necessary that he give up the responsibilities of the superintendent's office.
With Mrs. Lewis and son Carl he moved to West Virginia where he there regained his health sufficiently to accept the appointment as Assistant Director, under Mr. Mather, but his health soon failed and he suffered another heart attack and died at his home in Chevy Chase, Maryland, August 28, 1930.
Charles Goff Thomson
Born February 9, 1883 in Little Falls, New York. He served as Superintendent at Crater Lake National Park, and transferred to Yosemite National Park as Superintendent February 16, 1929.
He had many qualifications that distinquished him as an able executive. Colonel, as he was called by most every one, was largely responsible for the construction and improvements of the Wawona Road and Tunnel, the Glacier Point and commencement of the Big Oak Flat Road. Also the improved water system at the Mariposa Big Trees, Wawona and Tuolumne Meadows and the construction of the new government utility building. During his administration the important land acquisition of the Wawona Basin project, and the Carl Inn Sugar Pine addition added heavy administrative responsibilities upon the superintendent's office.
The emergency programs, the CCC, the WPA, and the PWA, greatly expended the developmental activities in the Park after 1933.
He had a dynamic personality, energy and experience. His keen sense of fitness and desire for the harmony of things in the National Park made itself felt in the design of the physical development.
His untimely death, March 23, 1937 at the Lewis Memorial Hospital, from a heart attack was a real loss to the Park Service.
His wife Hazel worked in the National Park Service Office in San Francisco for some years and two sons, Pete and Jeff reside in the San Francisco area.
Lawrence C. Merriam
On June 3, 1937 Mr. Merriam was appointed Superintendent of Yosemite National Park. Lawrence was a graduate of forestry from the University of California in 1921 and had worked with the emergency conservation program in the State Parks. It was Harold L. Ickes, Secretary of the Interior, who appointed Merriam Senior Conservationist in the National Park Service, and finally appointed him to the Superintendency of Yosemite National Park.
In August 1941 Merriam became Regional Director of Region Two, headquarters in Omaha, Nebraska. Later he transferred to Region Four in San Francisco, California, where he still holds the responsible job of Regional Director.
Frank A. Kittredge
Mr. Kittredge became superintendent of Yosemite National Park August 1, 1941. Frank was transferred here from Grand Canyon National Park. He served with the bureau of public roads and had given much of his time and energy to the road work throughout the National Parks. His duties as Chief Engineer took him to many places where he supervised the construction of new Roads, and other improvements.
He served as Regional Director for a few years in Region Four in San Francisco, California.
Frank tried to maintain and safeguard the natural historic values of the Parks. He was transferred to the Washington Office as Chief Engineer for sometime.
He retired from the Washington office and returned to his home in Palo Alto, California, where he died after a serious illness. He is survived by his wife Catherine and a daughter.
Dr. Carl Parcher Russell
Carl Russell was born January 18, 1894 in Fall River, Wisconsin. He Graduated from Ripon College in Wisconsin in 1915 and the University of Michigan with a Ph.D. in 1931.
Carl married Betty Westphal June 10, 1922. He served as Lieutenant of Infantry and a teacher in high school in Reno, Nevada, prior to his employment in Yosemite.
On June 11, 1923 he became the Ranger Naturalist in Yosemite National Park and September 1, 1923 succeeded Ansel F. Hall as Park Naturalist. In 1929 he was appointed to the field naturalist position with headquarters in Hall's Berkeley office. From 1930 through 1934 he spent each summer on special work in Yellowstone Park, and in winters he was assigned to Museum programs in Southwestern National Monument, in Arizona and New Mexico.
In 1935 Carl was transferred from Berkeley office as Chief of the Museum Division in Washington, D.C., then as Chief of Wild Life Division in 1936. Later he was appointed to the Regional Directorship in the Service, Region One with headquarters in Richmond, Virginia and Washington D. C. in 1937 and he became Chief Naturalist on the Directors Staff in 1939.
December 1, 1947 he transferred to Yosemite National Park as Superintendent, his "first love". November 1, 1952 took leave of the Park service to write the Western Fur Trade History and returned to the service under interpretive planning in the Region Four office at San Francisco in 1954.
During Carl's tenure as Park Naturalist, the present Yosemite Museum was developed. Curatorial work and the preparation of exhibits were directed by him and he also had charge of the regular programs of "Nature guiding" and lecturing in the Park which was conducted then, as now, by a staff of seasonal ranger naturalists and permanent naturalist personnel.
His direction of museums and natural history interpretations programs were deeply imbued with the fundamental idealism of the National Parks. He possesses a fund of knowledge of the great Park System and appreciation of its scenic and scientific values.
His writings dealing with accounts of the early fur traders of the west is a great contribution to that phase of pioneer history. During Carl's long tenure of office in the National Park Service he published numerous papers in scientific, historical and recreational journals. In 1931 he authored the book "One Hundred Years in Yosemite". Another addition of this work was produced by the University of California Press in 1947. The first of his fur trade history books appeared in 1957.
Carl Russell retired from the Park Service in 1957 and now lives in Orinda, California, with his wife Betty.
John C. Preston
John Preston was born December 8, 1897 in Fort Collins, Colorado. He graduated from the University of Montana in 1926, with a B. S. in forestry. He had previously attended the Colorado A. and M. College.
He first joined the National Park Service as a temporary Ranger in Rocky Mountain National Park. In less than three years he rose through the ranks from permanent park ranger and chief ranger, to that of assistant superintendent of Lassen Volcanic National Park in California. In 1941 he was promoted to Superintendent of Mount Rainier National Park, Washington. In 1951 he transferred to Great Smokey Mountains National Park and on November 1, 1952 transferred to Yosemite National Park.
During his tenure at Rocky Mountain National Park he was detailed for nearly a year to the National Park Service headquarters in Washington, D.C., to assist in the direction of the Civilian Conservation Corps and other emergency activities pertinent to the National Park Areas and programs. He served in the Air Corps in World War I.
During John's period as Superintendent of Yosemite, Mission 66 became active and many other new programs were started. Expansion of Park facilities and new construction took place to take care of the big increase of visitors and there will be more changes constantly taking place in the Park in future years. John has stood up well under this heavy burden of work and we wish him good luck and a well earned retirement before long.
ASSISTANT SUPERINTENDENTS OF YOSEMITE
Ernst P. Leavitt

Ernst entered Park Service as clerk, stenographer and typist in the Yosemity Park Office April 14, 1910.

On July 1, 1918 he was promoted to assistant superintendent in Yosemite and on January 16, 1931 he was transferred to Hawaii National Park as Superintendent where he served for several years. He then transferred to Crater Lake National Park, in Oregon.

Now retired from Crater Lake National Park, Ernst and Mrs. Leavitt are making their home near Central Point, Oregon.

Prior to his employment in Yosemite he worked with the Southern Pacific Railroad office in Stockton, California. Ernst was one of the earliest employees in Yosemite and saw many changes from 1910 when he first entered Yosemite Park.

John Emmert

On June 1, 1915 John was made Chief Electrician, and then furloughed to the U. S. Navy in 1918. He returned to duty April 1, 1919 and on December 16, 1926 was made Assistant Engineer. Then on April 2, 1931 he was promoted to Assistant Superintendent.

On March 1, 1933 John was transferred to Crater Lake National Park as Superintendent and served in several other Parks, Hot Springs, Yellowstone, and Glacier Park before he retired from the Park Service in 1958 and moved to Coeur d' Lane, Idaho.

John B. Wosky

John entered Yosemite National Park February 1, 1935. He was appointed Assistant Superintendent and on March 29, 1952 was transferred to Crater Lake National Park as Superintendent. A few years later he transferred to the Hawaii National Park. In 1959 he came back to the National Park office, Region Four, in San Francisco, California.

Harthon Bill

Harthon was appointed Assistant Superintendent in Yosemite National Park March 30, 1952. On September 25, 1955 he was transferred to Santa Fe, New Mexico, as Assistant Regional Director.

March 1960 he transferred to Grand Teton National Park in Wyoming as Park Superintendent.

Keith Neilson

Keith transferred from the National Park Service Office in Washington D. C. October 23, 1955 when he became Assistant Superintendent in Yosemite National Park and remains so up to this writing.
PARK NATURALISTS OF YOSEMITE NATIONAL PARK
Ansel F. Hall
Ansel was born May 6, 1894 in Oakland, California He graduated from the University of California with a BS degree in 1917 as a Naturalist and Forester. He married June Alexander of Berkeley, January 12, 1923 His first job in Yosemite was information ranger. July 1, 1921 to August 31, 1923 he served as Park Naturalist.
September 1, 1923 he took a leave of absence for special studies in Europe. On his return he was promoted to Chief Naturalist of the National Park Service from 1923 to 1930. He accomplished many original things in the field of Education and Museum activities. During the winter of 1919-1920 Hall personally constructed a large scale relief model of Yosemite Valley. During subsequent years this has been followed by intensive development of this type of work at western educational headquarters, especially for geology lectures and display in museum.
The first Park Wild Flower Gardens were developed under Hall's direction in Yosemite, Sequoia, Crater Lake and Yellowstone in 1929, and at Grand Canyon in 1930.
He took a leading role in the training of personnel., establishment of the Yosemite Museum Association, the Natural History Association which was established in 1920. Other Naturalists followed through with the basic ideas and plans he proposed.
Ansel resigned from the National Park Service in April 1937 and took over the Concessionaire business in Mesa Verde National Park in Colorado. He spends much of his time there in summer and in winter he returns to his home at Denver, Colorado.
He is author of numerous books on education pertaining to park lectures, travel and science.
Dr. Harold C. Bryant
Harold graduated from Pomona College in 1908 and served for quite a number of years at the University of California, as an economic ornithologist, and also with the California Fish and Game Commission.
In 1920 he layed the foundation for the program of the Branch of Natural History in Yosemite. Bryant was assisted on this educational work program by C. M. Goethe and Loye Holmes Miller. In 1921 the Nature Guide service started and in 1925 the Yosemite Field School of Natural History was established to train men to serve as naturalists.
Bryant served each summer as Seasonal Naturalist until July 1, 1930 when he was transferred to the Washington D. C. office to head the new branch on Educational Policy and Development as director of education and research for the National Park Service. In 1939 he was placed in charge of a Public Works Program in Sequoia National Park.
Dr. Bryant was transferred to Grand Canyon National Park, as Superintendent in 1941 and retired in 1954. Bryant and his wife now live in Orinda, California.
Dr. Loye Holmes Miller
From June 16, 1920 to July 15, 1920 and from June 16, 1921 to July 31, 1921 Miller was temporary naturalist assigned to the Yosemite National Park. In 1920 Stephen T. Mather, Director of Park Service, supported the Nature Teaching in Yosemite and Dr. Loye Holmes Miller and Dr. Bryant were employed to do the work of laying the foundation of the Branch of Natural History.
Dr. Miller's first experience in the Valley was a six week period in the summer of 1917 when he and Professor M. L. Macellan held a summer school for public school teachers. The work consisted of lectures and field trips about the Valley Floor and the trails to the rim. In 1919 he did similar work at Lake Tahoe. His work as an officer at the University took up most of his time, so he withdrew and turned over his part of the work to Dr. Bryant.
Enid Michael
June 28, 1921 Enid was employed as seasonal Ranger Naturalist to assist Dr. Bryant. Enid became a member of the Museum staff in 1942.
Enid assisted with Nature Field Trips, specializing in Botany. A long time resident of Yosemite, [s]he carried on extensive field studies, and published articles about the flora of the park. Much can be said of the important work Enid did in the park.
Charles A. Harwell
Charles became Park Naturalist of Yosemite National Park in 1929. He was very popular, and active in the naturalist activities, including the Museum programs and in directing the Yosemite School of Field Natural History. He worked diligently with local Indians in the Valley, trying to interest them in their original tribal customs, dances and basket work.
Harwell will be remembered by many for his unusual whistling and bird calling ability. He resigned in 1940 to accept a position with the National Audubon Society. He has now retired and lives in Fresno, California.
C. Frank Brockman
On March 27, 1941 Frank was appointed Park Naturalist of Yosemite National Park. He published a number of articles and letters on the scientific and historical aspect of Yosemite. Frank made several extensive field trips into the high country of the Park. Many of them were studies and surveys in connection with land acquisition.
On July 19, 1946 Brockman resigned from the Park Service to take a place on the faculty of the University of Washington.
George M. Wright
George was appointed temporary ranger November 15, 1927 and in 1928 was advanced to Assistant Park Naturalist. On July 2, 1929 he was transferred to Berkeley and later to the Washington, D.C., Park Service Office. George was financially independent and gave freely of his money to the betterment of the Service. His unquestionable ability and enthusiasm marked him for a high place in the Park Service.
In 1929 Wright was transferred to a field job to organize a central unit of wild life investigators and to survey the wild life problems of the National Park Service. Joseph S. Dixon and Ben W. Thompson were employed by Wright, to assist him in this work. They worked out of Berkeley, California and the Washington D. C. Park Service Office.
Unfortunately the service lost this valuable career man for Wright was killed in an automobile accident at the age of thirty two.
Dr. Carl Sharsmith
Carl was seasonal Ranger Naturalist for many years in the Yosemite National Park. It is only fitting I should praise this man's record of outstanding duty. It was my privilege to have been associated with Carl for many summers in the Tuolumne Meadows District.
In the presentation of an award to Carl, Superintendent Preston made the following statement regarding Dr. Sharesmith's meritorious service in Yosemite: "In his Citation from the Secretary of the Interior, Carl in some 25 summers of duty has been an inspiration to younger men, in the National Park Service, both permanent and seasonal. His comprehension of the aims and ideals of the Service is combined with an ability to impart this to others, both visitors and co-workers. Without reservation we can say, that the interpretive programs, nature walks, hikes and camp fires conducted by this Ranger Naturalist could be cited as an example of the ideals for which the Service should strive. At least two generations of park visitors at Tuolumne Meadows have enjoyed the friendly teaching of an outstanding educator and a great Naturalist".
Donald McHenry
Donald was appointed Park Naturalist of Yosemite National Park, January 9, 1947. Prior to this appointment he had been at the Grand Canyon National Park, Arizona and in the Washington office of the Naturalist Division. He entered the Government Service in 1919.
Mr. McHenry, an accomplished musician, contributed freely of his time and talent to all musical programs. He retired from the Park Service March 31, 1956.
Douglass H. Hubbard
Douglass was appointed Park Naturalist in Yosemite National Park in 1956. He is a native Californian and received his AB degree in zoology from the University of California in 1940. He went from there to Texas A and M College where he received his MS degree in 1942.
Doug worked as a patrol inspector with the U. S. Border patrol from 1941 to 1944. He was a Naval officer on a destroyer escort in the Pacific from 1944 to 1946.
He was in the Yosemite Field School class of 1940. In 1937 was employed in Yosemite as museum assistant. In 1947-1948 he was Naturalist in Hawaii National Park.
Doug has been Park Naturalist of Yosemite National Park since 1956 and is forwarding the program of restoring the Pioneer Center in Wawona.
---
Next: Second Decade • Contents • Previous: Yosemite Indians
http://www.yosemite.ca.us/library/guardians_of_the_yosemite/retirement.html