Yosemite > Library > 100 Years in Yosemite > Map >
One Hundred Years in Yosemite (1947) by Carl P. Russell
Sketch Map of Yosemite Region
---
EXPLANATION OF SKETCH MAP OF YOSEMITE REGION
DISCOVERY
In 1833 the Joseph Walker party crossed the Sierra, entering the Yosemite National Park region from the northeast and approximately following the route shown (Green Creek-Glen Aulin-present Tioga Road route). Several members looked into Yosemite Valley on a scouting trip from a camp along the Merced-Tuolumne divide. [Editor's note: today historians generally believe the Walker party looked down The Cascades, which are just west of Yosemite Valley, instead of Yosemite Valley itself.—dea] The party discovered the Big Trees (Tuolumne or Merced groves).
FIRST ENTRY
In 1849-50 J. D. Savage maintained a trading post and milling camp below Yosemite Valley at the confluence of the Merced and its South Fork. In the spring of 1850 this station was attacked by Indians.
Savage then removed his post to a safer location on Mariposa Creek. In December, 1850, Indians destroyed this post and murdered those in charge. Savage had established a branch store on the Fresno River, and this station was also burned in December, 1850.
As a result the white settlers organized a volunteer company to punish the Indians. A camp of 500 Indians was found on a tributary of the San Joaquin River. The savages were routed.
Governor McDougal then authorized organization of the Mariposa Battalion. On March 19, 1881, they set out for Yosemite (Mariposa-Wawona-Old Inspiration Point). The Battalion's first Yosemite Valley camp was near Bridalveil Creek. Their second was at Indian Canyon. They explored the valley to the vicinity of Snow Creek Falls and the foot of Nevada Fall.
Later in 1851 Captain Boling and party returned to Yosemite to make final disposition of the Indians (Fort Miller-Mariposa-Wawona). After two weeks of scouting they located the Indians at Tenaya Lake (via Indian Canyon). The entire tribe was captured and brought to the reservation on the Fresno River. Old Chief Tenaya was later permitted to take his family back to Yosemite. Other members of his tribe soon ran away to join him.
In 1852, eight prospectors entered the valley and two of them were killed by the Yosemites. As a result regular soldiers from Fort Miller, under Lt. Moore, made a third expedition to Yosemite. They followed the fleeing Indians to Mono Lake (Tenaya Lake-Soda Springs-Mono Pass) but captured none of them. On Moore's return (Soda Springs-Little Yosemite-Glacier Point vicinity-Wawona) to Mariposa he exhibited mineral specimens found in the summit region and Lee Vining was induced to go to the region to prospect. In 1853 according to Bunnell, wrathy Mono Indians, trailing stolen horses, came over the mountains and ended all Yosemite Indian troubles by virtually exterminating Tenaya's band. But Maria Lebrado, a survivor, denied this (see p. 47).
EAST-SIDE MINING EXCITEMENT
In 1857, five years after Lt. Moore's findings, word reached miners west of the range that rich placers had been found at Mono Diggings (Monoville). A rush from the Tuolumne Region followed. This excitement lasted but a few years.
In 1860 the Sheepherder Mine was located at Tioga. A prospect hole, shovel, pick, and obliterated notice were found in 1874 by William Breuschi, who relocated the lode. The Tioga District was organized October 18, 1878.
In 1859, Brodigan, Doyle, Garraty, and W. S. Body had located rich ground at Bodie. By 1879 there were 8,000 people in Bodie. More than $34,000,000 has been produced here.
In 1879 the Homer District was organized at Lundy, on ground discovered by C. H. Nye.
In 1882-83 a wagon road, following the old alignment of the present Tioga Road. was built from Crockers to Bennetville (Tioga) in order that machinery might he brought up the west slope. Road construction cost $64,000, and approximately another .$300,000 was spent on development at Tioga. The mine never produced.
PRESENT-DAY CULTURE
The sketch map also shows the Yosemite National Park Boundary as of 1946. The boundaries at one time included Mount Ritter and the present Devils Postpile National Monument.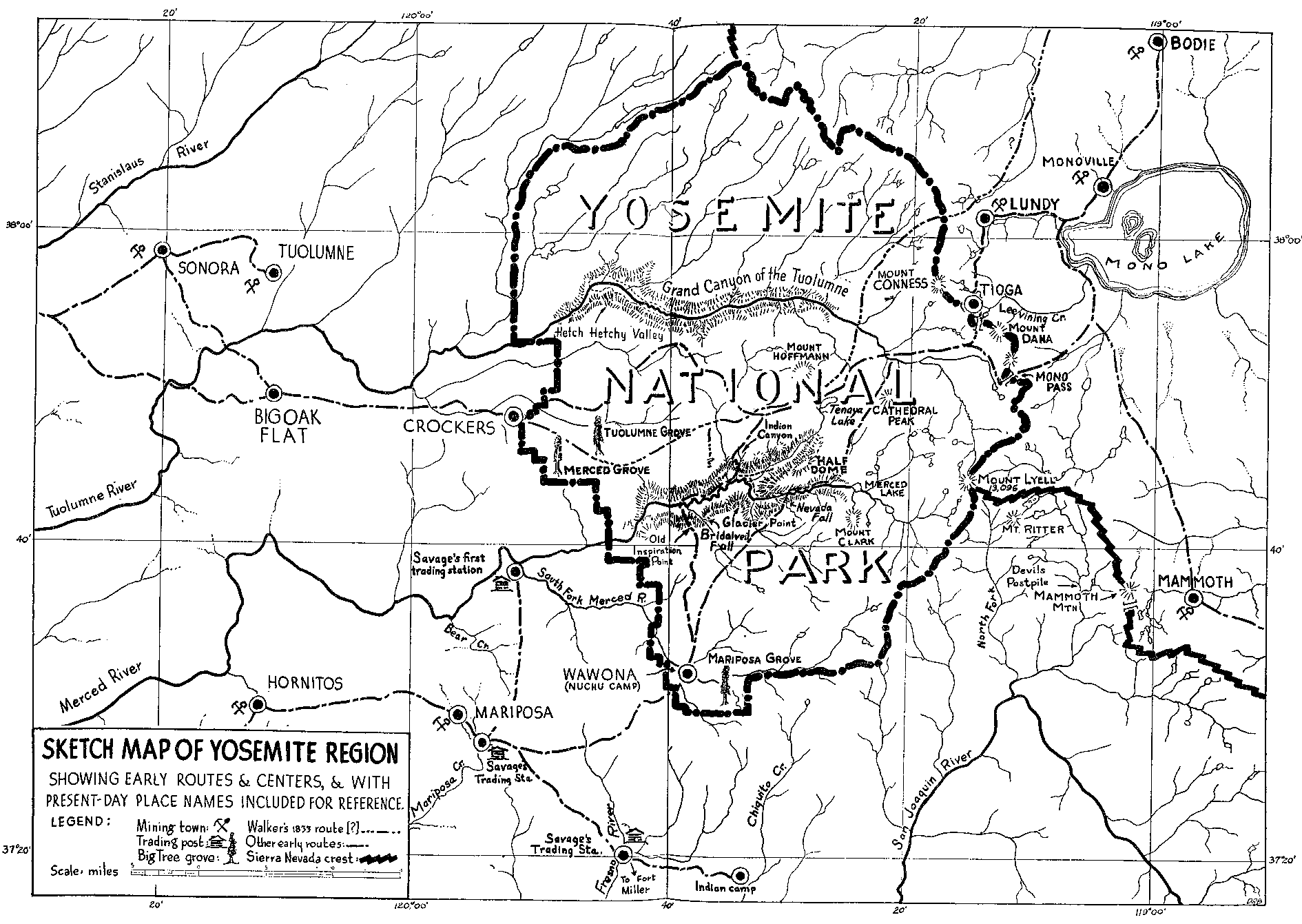 [click to enlarge]
SKETCH MAP OF YOSEMITE REGION
SHOWING EARLY ROUTES & CENTERS, & WITH
PRESENT-DAY PLACE NAMES INCLUDED FOR REFERENCE.
---
http://www.yosemite.ca.us/library/one_hundred_years_in_yosemite/map.html