Yosemite > Library > Scenes of Wonder & Curiosity > Riffle-Box Waterfall >
Next: Lake Bigler • Contents • Previous: California Geysers
Scenes of Wonder and Curiosity in California (1862) by James M. Hutchings
---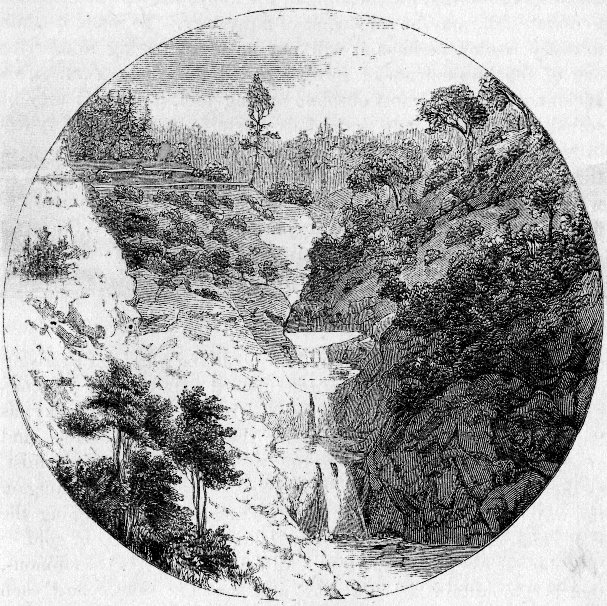 THE RIFFLE-BOX WATERFALL, DEER CREEK.
CHAPTER XI.
RIFFLE-BOX WATERFALL.
"Who lives to nature rarely can be poor."

Young

This

beautifully picturesque and romantic waterfall is situated on Deer Creek, about nine miles below the large and populous mining town of Nevada. To those who are unacquainted with the technicalities of mining, the meaning of the above name, when applied to a waterfall, may be somewhat of a mystery. To make it plain to every reader, perhaps it will not be uninteresting to describe one of the implements of mining called the Long Tom. This ancient, and now almost obsolete mining tool, if such it may be called, consists of a long flatish box or sluice, from ten to fifty feet in length, and from one foot to three feet in width, and open at the top; into this the dirt is thrown, and through it a stream of water is turned. The back end being elevated, gives sufficient fall for the water to pass down with considerable force. At the lower end there is a plate of perforated iron, called, a Tom Iron, through which the water, dirt, and gold pass into a "riffle-box" underneath; where the gold is saved. This box has narrow strips of wood across the bottom; and when one end is elevated the water makes a fall or riffle, Hence, from the great resemblance in the shape of above falls to a riffle-box, comes the name of Riffle-Box Falls. During the winter season, when the water rushes over with an impetuous sweep, it is remarkably wild and tumultuous.

In 1852, a company was formed to test the richness of this great riffle-box of nature; and to accomplish which a tunnel was cut through a hill of solid rock, about three hundred feet in length, at a cost of twenty thousand dollars. Through this tunnel the waters of the creek was turned, and by which the falls were drained.

The water had were deep holes in the bed of the creek, and to pump these dry, seven thousand dollars more were expended in machinery, &c. When this was accomplished and the "box" was made dry, the whole of the gold that was taken out was only about two hundred dollars.

This is one of the many enterprises into which the Californian enters, and where his money and time—frequently all that he posesses—are embarked, in a single venture, and be thrown penniless upon his own energies to begin life again—as he terms it. This will give friends in the East at least, one idea why the miner frequently remains from dear friends and home so long, when his hopes of returning were built upon the success of his undertaking —and which too often proves a complete failure.
---
Next: Lake Bigler • Contents • Previous: California Geysers
http://www.yosemite.ca.us/library/scenes_of_wonder_and_curiosity/riffle-box_waterfall.html