Yosemite > Library > Yosemite Sequoias >
---
A Guide to the Giant Sequoias of Yosemite National Park (1949) by James W. McFarland
---
Bibliographical Information
James W. McFarland (1917-2006), Yosemite Nature Notes (Yosemite: Yosemite Natural History Association, 1949) First published in Yosemite Nature Notes 28(6) (June 1949), pp. 41 - 91 (51 pages). Reprinted June 1953. Illustrated. 24 cm. Paper wrapper with a color photograph. Saddle stitched. Photographs by Ralph Hopewell Anderson (NPS).
Digitized by Dan Anderson, March 2005, from a personal copy. These files may be used for any non-commercial purpose, provided this notice is left intact.
—Dan Anderson, www.yosemite.ca.us
About the Author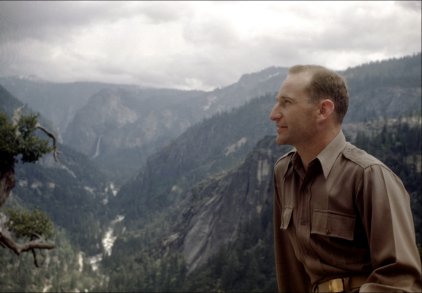 [click to enlarge]


James McFarland near Wildcat Creek bridge, Yosemite, April 1947
(family photo)

James W. "Jim" McFarland was born February 10, 1917 in Wynmere, North Dakota, to Rev. Ira J. and Alice L. McFarland and wife, the 4th of 9 children. He served as an Air Force officer during World War II and was in Normandy on D-Day.

McFarland was a graduate student at University of California, Berkeley, and started as a seasonal Ranger-Naturalist at Yosemite in June 1947. He worked with Carl Sharsmith to get the Yosemite School of Natural History started again after being shutdown during the war. McFarland also contributed articles to Yosemite Nature Notes and was a teacher outside of Yosemite. He died July 15, 2006 at Riverside, California.




---
http://www.yosemite.ca.us/library/sequoias_of_yosemite/