Yosemite > Library > Yosemite Sequoias > Foreword >
Next: Discovery • Contents • Previous: Table of Contents
A Guide to the Giant Sequoias of Yosemite National Park (1949) by James W. McFarland
---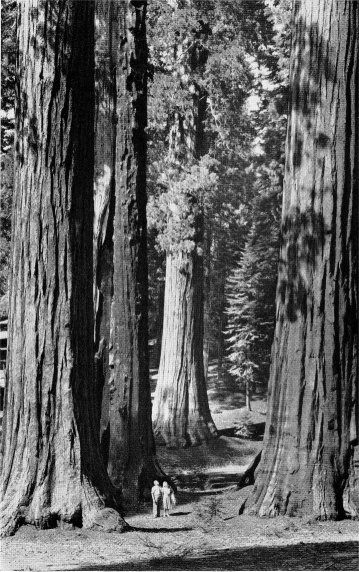 The Governor's Group, Mariposa Grove (See page 88).
Foreword
For over a hundred years, since their discovery, the giant sequoia, the "redwood" of the Sierra Nevada, has been a subject of wonder to scientists. The lumberman has come to appraise these "monarchs of the forest." Millions of visitors have come on foot, on horseback and by automobile to stand in awe of their size, their age and their majesty.
The preservation of natural areas had its beginning in America when a few farseeing Californians, not being willing to trust their future in the hands of private interests, obtained congressional action, climaxed by the signing of a document by Abraham Lincoln in 1864, reserving Yosemite Valley and the Mariposa Grove of Big Trees as a State park. This inception of the national park idea reached a climax with the Act of August 25, 1916, creating the National Park Service. The lands placed under its administration are to be held "to conserve the scenery and natural and historic objects and wildlife therein, and to provide for the enjoyment thereof in such manner and by such means as will leave them unimpaired for the enjoyment of future generations." In this policy is expressed the conviction that "some small part of America's abundant natural wealth of land and resources may be reserved for the purpose of creating a popular understanding and enjoyment of the natural and historic processes which make the nation distinctive and great." The giant sequoias of Yosemite are a part of the National Park System. Use them, but do not use them up!
This publication has been prepared primarily to give the Yosemite visitor a self-guiding auto tour of the Mariposa Grove of Big Trees (see page 70) as well as information that will enhance his appreciation and enjoyment of these giant sequoias. The tour starts from South Entrance Ranger Station (see guide map on pages 66 and 67). It includes an eleven-mile round trip through the Mariposa Grove to the famous Grizzly Giant, to the Museum, past the Telescope Tree, through the Wawona ("tunnel") Tree, and back to South Entrance Ranger Station. For directions as to how to reach Mariposa Grove see the map facing the table of contents. The other two groves of giant sequoias found within the park are also briefly described.
---
Next: Discovery • Contents • Previous: Table of Contents
http://www.yosemite.ca.us/library/sequoias_of_yosemite/foreword.html