Yosemite > Library > Yosemite Valley >
---
The Yosemite Valley (1910) by Galen Clark
---
Introduction
Galen Clark was Yosemite Valley's first Guardian and an early pioneer. He became sick as a miner and his doctor adivsed he go to the mountains for his health, or he'll die shortly. He started a ranch in Wawona, which later became a hotel, which is still in service, and discovered nearby Mariposa Grove of Giant Sequoia trees in 1857. When Yosemite Valley was set aside as a park in 1864, he became its first Guardian. After delivering this book to be printed, Galen Clark caught a severe cold. He died shortly after in Oakland at the home of his daughter, Mrs. Elvira Lee, at the age of 96.
Some theories Mr. Clark had about the origin of Yosemite are not supported by what we now know. Galen Clark was observant and knew a lot about Yosemite, but was not a geologist. Furthermore, the theory credited to Clarence King and the one accepted today in most respects was actually originated by John Muir. Clarence King only accepted the theory after Muir proposed it (see Badè's The Life and Letters of John Muir, Ch. 9).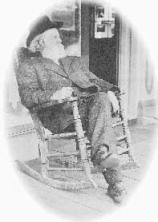 Most of the photographs in the book are by George Fiske. George Fiske was born 1835 in Amherst, New Hampshire and moved west with his brother to San Francisco. He apprenticed with Charles L. Weed and worked with Carleton E. Watkins, both early Yosemite photographers. Fiske and his wife moved to Yosemite in 1879 and lived there until he committed suicide in 1918. Fiske was living alone when he shot himself and he often told his neighbors he was "tired of living." Most of his negatives were destroyed when his house burned in 1904. After his death, his remaining negatives were acquired by the Yosemite Park Company and stored neglected in a sawmill attic, which burned in 1943. Ansel Adams suggested they be stored safely in the Yosemite Museum fireproof basement, but his suggestion was ignored. "If that hadn't happened," says Adams, "Fiske could have been revealed today, I firmly believe, as a top photographer, a top interpretive photographer. I really can't get excited at [Carleton] Watkins and [Eadweard] Muybridge—I do get excited at Fiske. I think he had the better eye." (Hickman & Pitts, George Fiske, Yosemite Photographer (1980)).
—Dan Anderson, 2004
---
Contents
---
Bibliographical Information
Clark, Galen (1814-1910) The Yosemite Valley, its history, characteristic features, and theories regarding its origin. By Galen Clark. Illustrated from photographs by George Fiske. (Yosemite Valley, California: N. L. Salter, 1910) xix, 108 p. including frontispiece (portrait), plates. 19 cm. Library of Congress Call Number F868.Y6 C6. LCCN 10015162. The paperback first edition (1910) is used here, with a brown-colored. There is also a hardback edition (without advertisements) and a second edition (1911), with a tan cover.
The pages of the book have 4 sets of border designs, all showing various Yosemite scenes. The first two sets show Bridalveil Falls and Vernal Falls. The other two sets show Sentinel Rock and Half Dome.
Digitized by Dan Anderson, August 2004, from a copy in the SJSU Library. These files may be used for any non-commercial purpose, provided this notice is left intact.
—Dan Anderson, www.yosemite.ca.us
Obituary of Galen Clark
[Mariposa Gazette, April 2, 1910]
(submitted by Tom Hilk)
Mariposa County's Oldest Citizen Passes Away in Oakland. Galen Clark, the discoverer of the Mariposa grove of big trees, the first white man who ever trod the Yosemite Valley and for 24 years guardian of the famous park for the State of California, died at 6 o'clock, Thursday evening, March 24 the, at 216 Eleventh street, Oakland, the home of his daughter, Dr. Elvira M. LEE. He had been ill for two weeks with a sever cold, and although he was 96 years of age he retained his mental alertness until he fell into his last nap late in the after noon the day he died. When his daughter went to his side at 6 o'clock he had breathed his last. Clark was the oldest voter in Mariposa County as well as the oldest white man. While CLARK is best known as a mountaineer and discoverer of the Mariposa grove of sequoias, he was a deep student of natural phenomena and made an exhaustive research into the geology of the Yosemite. He had prepared a pamphlet on the theories of the origin of the valley, which he was publishing in Los Angeles. His chief service as a student was in massing together the beautiful legends of the almost vanished Yosemite tribe of Indians under the title of "Indians of the Yosemite." Galen CLARK was born March 28, 1814, Dublin, N. H. He moved westward when a youth, and in Missouri was married to Miss Rebecca McCOY, who died at Springfield, Mass., Leaving children of whom two are now living, Dr. LEE of Oakland and Mrs. John T. REGAN of Springfield, Mass. When his wife passed away Clark came to California, seeking a fortune. He arrived in the state in 1853 and after a few months near the coast he was seized with hemorrhages of the lungs, and came to the Sierra Nevadas to recover his health. Since that time he has been a continuous resident to Mariposa county never leaving the mountains save for a few occasional months at a time. During the summer months the venerable mountaineer used to dwell in his own cabin in the valley. Near it he built his own tomb in which it is to be hoped his remains will forever rest in peace in the valley that he loved so well.
---
http://www.yosemite.ca.us/library/the_yosemite_valley/