Yosemite > Library > Trees > California Black Oak >
Next: Canyon Live Oak • Contents • Previous: Oak Family
Trees of Yosemite (1932, 1948) by Mary Curry Tresidder
---
California Black Oak
Quercus kelloggii Newb.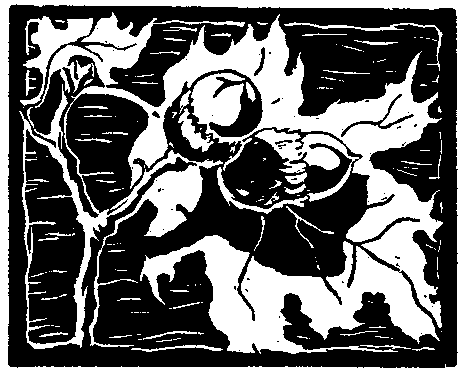 California Black Oak Acorns
Slightly Less Than Natural Size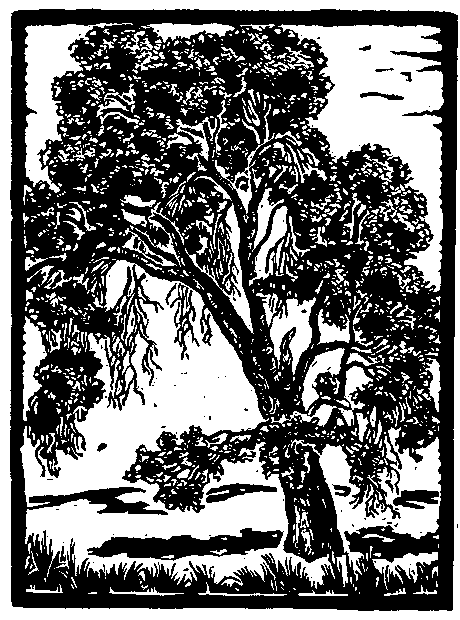 California Black Oak Tree
The California Black Oak, also called the Kellogg Oak, is deciduous. In the meadows of Yosemite it brings russet and gold to the long Indian summer. It is one of the associates of the Ponderosa Pine throughout the Transition Zone, and its ball of shiny green foliage affords a strong contrast to the darker green of the other's tall, narrow spire. A bitter struggle for existence goes on between the two, with the Ponderosa Pine usually the victor. Stoneman Meadow affords an example of this, as does El Capitan Meadow, where the thickets of azalea beneath the Black Oaks are having their territory invaded by the Ponderosa Pine.
The trunk of the Black Oak is a weathered deep gray, often black, with a hard bark roughened and checkered along the lower portion. It usually divides, at a height of from fifteen to twenty-five feet, into several large branches, which are again subdivided and produce a rather open but rounded crown, fifty to seventy-five feet above the ground. The younger branches are smooth, and the new twigs are reddish in color.
The mistletoe is a persistent enemy of this oak; great clumps of it often hang upon the branches of old trees and sap their vitality.
When the young leaves emerge from the winter buds, they are soft and velvety, tinged with red, shimmering in the sunlight. This stage soon passes, and the leaves become a yellowish-green, smooth above, paler and sometimes slightly downy underneath. They have a strong central vein and are deeply lobed, usually with three or four points on each side, each lobe more or less toothed at the tip. They are decidedly variable in size and shape, ranging from four to eight or ten inches in length and from two to five inches in width.
Its acorns, with their deep cups, are chestnut-colored when ripe; they mature the second season, in September or October.
---
Next: Canyon Live Oak • Contents • Previous: Oak Family
http://www.yosemite.ca.us/library/trees_of_yosemite/california_black_oak.html