Yosemite > Library > Trees >
---
Trees of Yosemite (1932, 1948) by Mary Curry Tresidder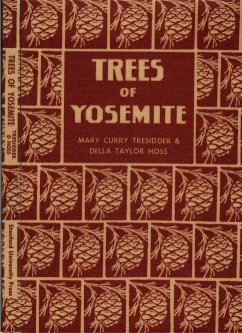 ---
About the Author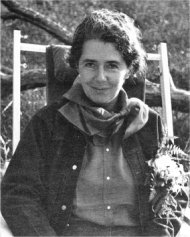 Mary Curry Tresidder
(Ansel Adams)

Mary Louise Curry was born November 29, 1893 in Ogden, Utah. She was the daughter of "Mother" Jennie Curry and David Curry, founders of Camp Curry in Yosemite Valley, and grew up in Yosemite Valley. She graduated from Yale in 1919.

Mary met her future husband, Donald B. Tresidder, while he was a med student working summers in Yosemite. He was briefly fired for taking her up the back side of Half Dome. They married June 17, 1920. Donald earned his M. D. and became president of Stanford University and the Yosemite Park and Curry Company, the private concessionaire for Yosemite National Park. After Mary's husband died, Mary was elected president of Yosemite Park and Curry Company. Mary Tresidder was an intensely shy woman. She had a deep interest in botany and would frequently post notes about the latest flower blooms at the High Sierra Camps in summer. Mary Curry Tresidder died of a heart attack October 29, 1970 in her Ahwahnee Hotel suite, Yosemite Valley, California.

For more information on Mary Curry, the Curry Family, Camp Curry, and Yosemite Park and Curry Company, see Yosemite's Innkeepers by Shirley Sargent (1975, 2000).



---
About the Illustrator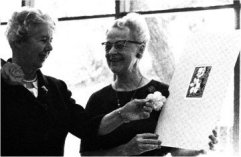 Mary Tresidder with Della Hoss
and one of her linoleum prints.

Born Della Taylor June 3, 1900 in Harvey, Illinois. She grew up in Los Angeles. Her brother Frank J. Taylor (1894-1972) wrote "Oh, Ranger!" with Horace M. Albright, among some two dozen other books. Della Taylor graduated from Stanford University in 1923 and later studied at the California School of Fine Arts and National School of Fine and Applied Arts. She was an artist, working on prints, paintings, and illustrations. Little Della Taylor married Hermon Hoss, a tall man and attorney for Yosemite Park and Curry Company. They had a son Peter. She illustrated Trees of Yosemite with beautifully thick Art Deco-style linoleum block prints of trees and leaves. Della says of her good friend: "My first impression was that all the trees in Yosemite were pines. . . . Mary in her scholarly way and out of her deep love for nature, taught me differently." She began by sketches and later linoleum block prints. (Shirley Sargent Yosemite Innkeepers). Della Taylor Hoss died February 19, 1997, Palo Alto, California.
---
Bibliographical Information
Mary Curry Tresidder (1893 - 1970), The trees of Yosemite; a popular account Revised edition (Stanford University Press, 1948). Copyright 1932 and 1948 by the Board of Trustees of the Leland Stanford Junior University. Illustrated with 34 linoleum block prints by Della Taylor Hoss (1900 - 1997). LCCN 48007681. xiv+134 pages. Illustrated. 23 cm. Bound in fabricoid wrappers with red-brown printed spine and cover titles, with linoleum prints of a Sequoia cone. Library of Congress call number QK484.C2 T7 1948.
First edition printed in 1932 (LCCN 32016856). Reprinted by the Yosemite Natural History Association, 1963. The second (revised) edition, which differs with only minor changes, is used here.
Digitized by Dan Anderson, May 2005, from a personal copy. These files may be used for any non-commercial purpose, provided this notice is left intact.
—Dan Anderson, www.yosemite.ca.us
---
http://www.yosemite.ca.us/library/trees_of_yosemite/