Yosemite > Library > Trees > Nuttall Dogwood >
Next: Willow Family • Contents • Previous: Canyon Live Oak
Trees of Yosemite (1932, 1948) by Mary Curry Tresidder
---
Nuttall Dogwood
Cornus nuttallii Aud.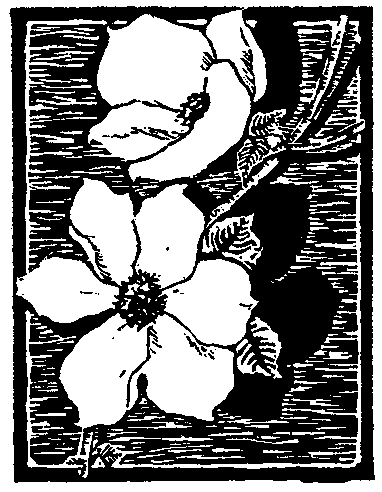 Nuttall Dogwood Flowers
About 1/2 Natural Size
The dogwood derives its botanical name from the hardness of the wood (Latin, cornu, horn), which, however, is little used commercially. It is known as the Nuttall, Western, Mountain, or Pacific Dogwood, and also as the Cornel. It differs in certain respects from the Flowering Dogwood of the Eastern states.
The origin of the name "dogwood" seems to be shrouded in the mists of antiquity, although it is one of the names people most often ask about—and protest against. One writer says, "It is questionable whether the name Dogwood was meant to convey contempt for the tree as worthless for timber, or whether it referred to the value of its astringent bark as a cure for the mange in dogs."*
The bark is smooth and grayish as a rule; only in comparatively old trees is it broken and scaly. The mature dogwood attains a height of twenty-five to sixty feet, with a rather irregular crown, and a bole from six to eighteen or twenty inches in diameter. Young shoots often spring from the roots, making a leafy clump.
The leaves are entire, rather ovate in shape, three to five inches long, on a short leaf-stem. They are usually opposite, as are the twigs themselves.
In the spring, usually in May, with the unfolding leaves, the flower-clusters of the dogwood make a sunshine in the shady places where it loves to grow. The large, white, petal-like scales or bracts which surround the head of the small flowers are usually taken for the flower itself. The number of the bracts varies—four, five, or six; one of the heads may measure six inches across, from tip to tip of the bracts.
Again in the autumn the dogwood stands out among its neighbors by reason of the brilliant coloring of its deciduous foliage and also of the fruit—a compact head of small scarlet berries, or drupes, each containing a stone with one or two seeds.
It is not found in the higher mountains, but grows in profusion on the floor of the Yosemite Valley and for two thousand feet above it. The dogwood makes the region of Bridalveil Falls a fairyland in spring; the Wawona Road between Inspiration Point and Chinquapin and the Big Oak Flat Road near the Tuolumne Grove of Big Trees are among the places rendered more lovely by its presence.
The Creek Dogwood, or Red-Stemmed Dogwood, is a shrub which grows along streams and in marshy places; its flowers are much less showy, and its smaller and more pointed leaves turn a rich, dark red, almost a mahogany color, in the fall.
---
Next: Willow Family • Contents • Previous: Canyon Live Oak
http://www.yosemite.ca.us/library/trees_of_yosemite/nuttall_dogwood.html