Yosemite > Library > Tuolumne Meadows Trails > Hikes >
Next: I. Lembert Dome • Contents • Previous: Hike Classification
Guide to Tuolumne Meadows Trails (1960) by Allan Shields
---
THE HIKING PROGRAM
General Information:
1. Since the region covered by these hikes is adequately detailed in other publications readily available, little additional detail is included in these descriptions other than outstanding features most likely to be encountered. Instead there are included numbered references to particular works by page in the bibliography. For example, since the Clark's nutcracker (crow) will probably be heard and seen on the sides of Lembert Dome and around Gaylor Lakes his name is mentioned, followed by the number 1, which refers to the Yosemite Nature Notes entitled "Birds of Yosemite". The page reference in this issue then follows, thus: (1, p. 115).
2. The point of origin and return is always the Campground Ranger Station at the entrance to the Tuolumne Meadows campground.
3. Mileage figures are always given as round trip. Short side trips sometimes mentioned are additional.
4. It is urged that your hike be made more complete by doing some exploring in the vicinity of your objective. Though it may be unnecessary to say so, you should not hesitate to leave the trail for short distances. if something intrigues you. For example, while on top of Lembert Dome, you may want to walk down to the large ledge toward the river bridge, or you may want to walk out on the back shoulder of the Dome to see the erratic slope before descending through the forest.
The Campground Ranger Station is the beginning point for all hikes described herein.
—McCrary, NPS


[click to enlarge]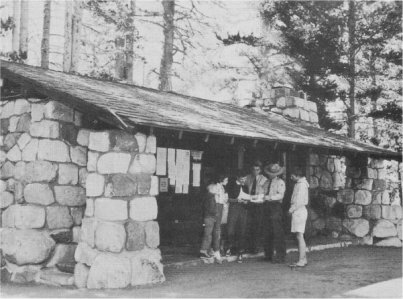 ---
Next: I. Lembert Dome • Contents • Previous: Hike Classification
http://www.yosemite.ca.us/library/tuolumne_meadows_trails/hikes.html