Yosemite > Library > Tuolumne Meadows Trails >
---
Guide to Tuolumne Meadows Trails (1960) by Allan Shields
Warning: Trailheads and trails may have changed since this guide was written in 1959. Bring and use a detailed trail map when hiking. This guide isn't a substitute for your own common sense. Don't use this guide unless you are willing to take personal responsibility for your own safety. When hiking, be aware of hazards from inclement weather, snow, and hidden obstacles (such as holes, trees, streams, and rocks).
---
About the Author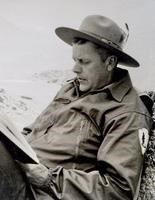 Allan Edwin Shields was born July 3, 1919 in Cincinnati or Columbus, Ohio. According to his obituary, he was raised in eastern US localities until 1935. His family moved west to Piedmont, California, traveling the newly opened Route 66. He attended Bay Area schools and the University of California, Berkeley, where he and Bernice met.
He married Bernice Clark in 1941 and had 4 children. Shields received an AB from University of California, Berkeley in 1941. He served in the Army Air Corps during World War II, 1942-45 becoming a Sergeant. After the war he received a MA from University of Southern California in 1947. In 1951 he received a PhD at University of Southern California in Philosophy and Experimental Psychology and was in the Phi Beta Kappa honor society.
Dr. Shields became an Assistant Professor of Philosophy and Psychology at San Diego State College in 1949. He was Professor and Dean at University of Northern Iowa, Cedar Falls during 1968-70. He retired from San Diego State University in 1978.
Shields was a seasonal National Park Service Ranger-Naturalist in Tuolumne Meadows, Yosemite National Park during 1955-60, when he wrote this booklet.
After retirement from SDSU in 1978 he moved to his ranch near Yosemite, Jerseydale Ranch. He took up writing and publishing, with his small press business, Jerseydale Ranch Press. Dr. Shields has written or edited several articles and books, generally philosophy articles as a professor, and popular writings on Yosemite and Mariposa County in retirement. These include:
A Bibliography of Bibliographies in Aesthetics (1974)
A Bibliography of the Works of F. C. S. Schiller: With an Introduction To Pragmatic Humanism (co-author, 1974)
A Yosemite Adventure in 1863: And Other Tales of Early Days in Mariposa County (editor, 1992)
Mariposa Now and Then (1993)
The Song of Sonora (1993)
Tragedy of Tenaya: A Yosemite Indian Story (fiction, 1993)
A Yosemite Naturalist's Odyssey: Journals and Drawings by William L. Neely (editor, 1994)
What Animals Taught Me (1994)
Climb Every Mountain: A Portrait of Carl Sharsmith (editor, 1996)
California Storms, Floods, and Other Natural Benefits, 1849-1997: A Documentary (1997)
Lemuel Albert Holmes, editor, Mariposa Gazette, 1855-1862 (1997)
In retirement Allan Shields lived near Midpines, California. His interests, besides the outdoors and nature, include gardening, wine making, playing the violin, hosemanship, and musical criticism. His papers are at SDSU Special Collections. He died August 14, 2017.
---
Bibliographical Information
Allan E. Shields (1919- 2017) Guide to Tuolumne Meadows Trails (Yosemite: Yosemite Natural History Association: 1960). Special issue of Yosemite Nature Notes, 39:8. 41 pages. Color illustrations. 24 cm. Foreword by Dr. Carl W. Sharsmith. Saddle stitched with illustrated paper covers.
Digitized by Dan Anderson, January 2007, from a personal copy. These files may be used for any non-commercial purpose, provided this notice is left intact.
—Dan Anderson, www.yosemite.ca.us
---
http://www.yosemite.ca.us/library/tuolumne_meadows_trails/