Yosemite > Library > Wawona's Yesterdays > Logging >
Next: CCC Camp • Contents • Previous: Stella Lake
Wawona's Yesterdays (1961) by Shirley Sargent
---
Logging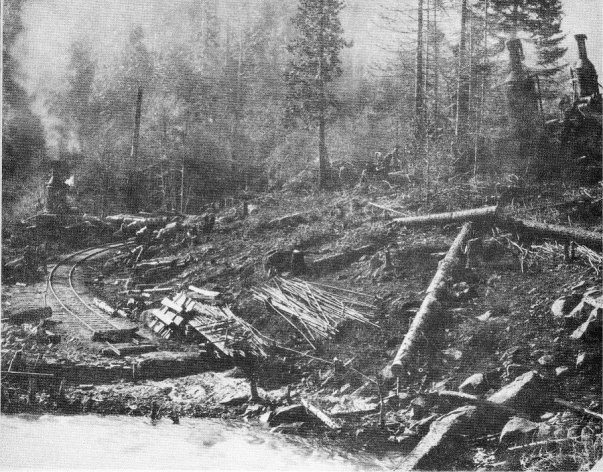 Logging Operations Near Wawona — Note "Donkey" Engines
"Timber!" was a familiar cry in the Wawona basin area from Galen Clark's day on, yet a surprisingly fine, though too-thick forest has grown up the first denuding. Extensive since logging was done legally as the entire Wawona area was privately owned until 1932.
The Washburns sold timber rights to their many acres to the Madera Sugarpine Company which was responsible for most of the logging, operating from the spring of 1897 until the 1930's. They had a large mill at Sugarpine, three miles south of Fish Camp, and literally miles of narrow-gauge railway trucks. Logs were hauled to this mill on flat cars pulled by locomotives having geared drive wheels.
When large lumber camps were moved, the wooden houses were loaded atop flat cars and rolled to new locations. 48
From the Sugarpine mill, rough milled lumber was carried seventy miles to Madera in an open flume.
Such logging accounted for the destruction of much of the fine sugarpine stands around Wawona and for a time severely damaged the watershed.
The Wawona Hotel itself consumed a great deal of lumber for buildings, stables and shops. In 1874, along with the lodging house, blacksmith shop and bridge, the Washburns had purchased a small sawmill from Clark and Moore. 65 Soon after, Albert Bruce built a water power sawmill for the Washburns which was crushed in the heavy snows of 1888. In the 1900's several Wawona homesteaders established small mills and most of their production was sold to the Washburns for new buildings. 66
Four of the Bruce brothers took part in sawmill operations and around Wawona. Bert Bruce did the first selective cutting there, taking only mature timber and big trees on 60 acres of the Bruce homestead. He logged over two million board feet and almost all of it went into building Camp Curry. 67
Bert and his brother Joy built a circular sawmill which was powered by undershot Pelton water wheel with water from Chilnualna Creek. In 1913, Jay built another mill which furnished $4,000 worth of lumber which went into the building of an addition to the Wawona Hotel's dining room and kitchen. This mill was totally destroyed by fire in 1915. 48
Bill and Robert Bruce ran the sawmill built by their older brothers in 1912. Their lumber production was sold mainly to Camp Curry, although some of it went into the building of Camp Hoyle and some to Sierra Lodge which was on the Scroggs property at Wawona. 68
---
Next: CCC Camp • Contents • Previous: Stella Lake
http://www.yosemite.ca.us/library/wawonas_yesterdays/logging.html