Yosemite > Library > Wawona's Yesterdays > Stella Lake >
Next: Logging • Contents • Previous: First Ranger
Wawona's Yesterdays (1961) by Shirley Sargent
---
STELLA LAKE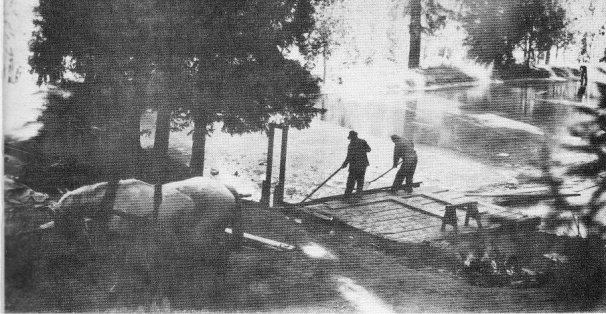 Stella Lake — Persian Wheel in Operation
To the left of Forest Drive, about a quarter mile up from the covered bridge are the remains of what looks like ancient reservoir. This was called Stella Lake after Estella Hill Washburn who was John Washburn's wife. It was a popular spot for walking, picnicking, swimming, boating and, at the eastern secluded end, lovers. It was stocked with fish, too.
Actually, Stella Lake had been built by damming and diverting the river for an extremely practical purpose. It was an ice pond and summer recreational pleasures were incidental. The Washburn brothers had to have tons of ice to supply their hotel. By temperature tests, they found the coldest place in the river and proceeded to dig a ice pond, roughly 100 to 180 feet wide and 1,000 feet long, about 1886. 63 By early January, the ice on the still lake water would be about four and a half inches thick. Cutting began then and lasted a week or so and, by that time, the ice would be six inches thick. 64
The ice cut by hand into large floating blocks, poled to the dock and then lifted by an endless belt out of the lake, up and over the earth dam and into the nearby ice house. The belt was moved by a horse operated "Persian wheel" whose principle has been known and used for over 2,000 years.
The horse walked around a vertical axis which was converted by gear to a horizontal axis. A wheel at the end of this ran the chain on two sprockets that carried the ice blocks. 64
The ice house had walls eight inches thick, stuffed with sawdust insulation. 64 Sawdust can still be found on the site of the building just below the dam. During summers, the stored ice was used by the hotel.
John Conway, pioneer Yosemite trail builder, manufactured charcoal for the blacksmith shop in a pit near the lake. 36
For years, Stella Lake was both pretty and practical, but after 1934, when the Yosemite Park and Curry Company began running the hotel, refrigeration replaced "homemade" ice, the lake's banks were allowed to crumble and, sadly, after the flood of 1955 it became the wreck it is today.
---
Next: Logging • Contents • Previous: First Ranger
http://www.yosemite.ca.us/library/wawonas_yesterdays/stella_lake.html