Yosemite > Library > Wildflowers > Meadows and Valleys >
Next: High Country • Contents • Previous: Foothills
Wild Flowers of the Sierra (1958) by Douglass H. Hubbard
---
meadows and valleys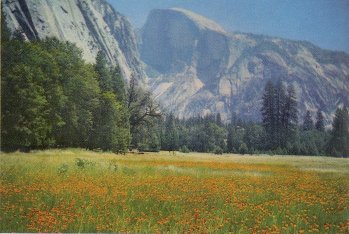 Half Dome overlooks Yosemite Valley and a field
of Sneezeweed.

Many kinds of wildflowers grow in the middle elevations of the Sierra. In traveling from the San Joaquin Valley to the crest of the range, you will pass through six life zones—the Lower Sonoran, Upper Sonoran, Transition, Canadian, Hudsonian, and Arctic-Alpine. Each zone has plant and animal "indicators" which tell the visitor that he is in that particular climatic belt.


WESTERN AZALEA
Rhododendron occidentalis
The fragrant Western Azalea grows along stream sides
and in moist meadows in many Sierran regions. Shrubs
3 to 10 ft. tall, flowers to 2". May-July.

BUTTERCUP
Ranunculus sp.
Many kinds of buttercups are found in the
West. Their Latin name means "little frog",
since some species grown in marshy places.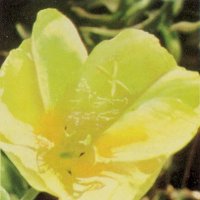 EVENING PRIMROSE
Oenothera hookeri
A showy Sierran flower which bursts
rapidly into full bloom early in the
evening. Stems 3 to 6 ft., flowers 2 to 4"
across. June-September.

BEAR GRASS Xerophyllum tenax
This 2 to 6 ft. high plant was important to
the Indians. The roots, roasted, were
eaten and leaf fibres used in making
clothing. May-July.

PACIFIC DOGWOOD Cornus nuttallii
Modified leaves of white, usually 6,
surround a small crowded head of flowers
on this spectacular Sierran plant, which
grows 10 to 30 ft. high.

RED RIBBONS Clarkia sp.
A colorful annual, Clarkia is found in
many parts of California. It was named
for Captain Clark of the Lewis and Clark
Expedition.

TIGER LILY or LEOPARD LILY
Lilium pardalinum
Wet meadows are the usual home of the
beautiful Tiger Lily, which may grow to
heights of 7 ft. June-August.

PITCHER PLANT or COBRA PLANT
Darlingtonia californica
This unique plant can trap and digest
small insects. Grows to 18" with 2"
flowers. In moist areas. May-July.

TIDY-TIPS
Layia platyglossa
A bright member of the sunflower family,
abundant in many parts of California.
Stems 4 to 16" high, flowers to 2". April-
May.

BITTER ROOT
Lewisia rediviva
These beautiful flowers may be red
or white. This 3/4" to 2" high plant
was named for Captain Lewis of
Lewis and Clark. April.

MONKEY FLOWER
Mimulus sp.
Monkey Flowers are among the most
attractive of California wildflowers.
Their Latin name, Mimulus, means a
comic actor, because the flowers appear
to be grinning.

MAHALA MAT or SQUAW MAT
Ceanothus prostratus
The branches of this plant often root
and form a dense mat 2 to 10 ft. wide.
In pine woods of the Sierra.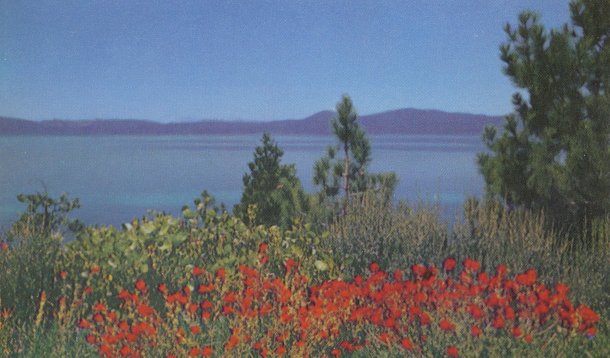 Tahoe, one of the world's largest high lakes, is shared by California and Nevada. The red Indian
Paint Brush (Castilleia) is a common western wildflower.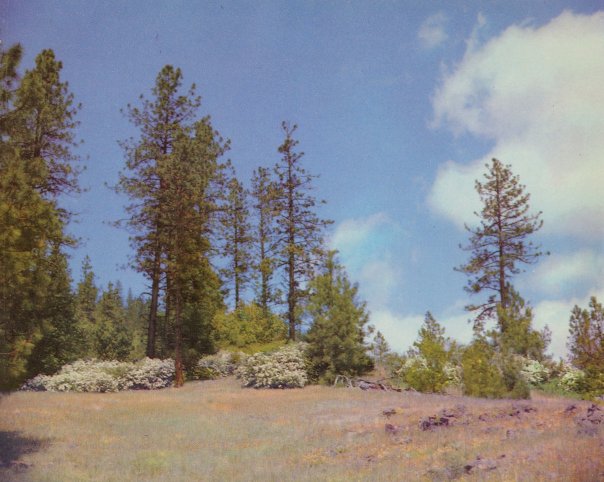 Ponderosa or yellow pines form a backdrop for the fragrant Western Azaleas (Rhododendron occidentalis).
These shrubs, common also along streamsides in the Sierra, bloom during early summer.

PINK MONKEY FLOWER
Mimulus lewisii
The beautiful Pink Monkey Flowers
grow on stems 1 to 2 ft. high in moist
places of the Sierra and Cascades.

INDIAN RHUBARB,
UMBRELLA PLANT
Peltiphyllum peltatum
Sturdy plant 1 to 4 ft. tall, frequently growing along
streamsides. The fleshy leaf stalks, peeled, were
considered a delicacy by Indians. June-July.

WESTERN WALLFLOWER
Erysimum asperum
Common on rocky hillsides and in
mountains in much of California, the
Western Wallflower grows 1 to 2 1/2 ft.
high. March-April.

LADY'S SLIPPER
Cypripedium californicum
Beautiful showy orchids on stems 1 to 2
ft. tall, flowers 1 to 6. Grows in many
places, Central California to Oregon.

MOUNTAIN VIOLET
Viola purpurea
Grows from 2 to 6" high on short
stems from a sturdy root. Common
from Southern California to Modoc
County. March-July.

WESTERN BLUE FLAG
Iris missouriensis
Many moist meadows in the Sierra and
the northwest are brightened by these
flowers. Height 10 to 24", flowers to 3"
long. July.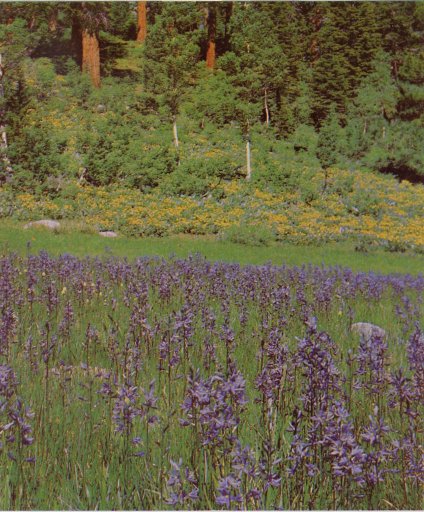 A forest of giant trees looks down on a meadow of blue Camass
and yellow Wyethia.

THIMBLEBERRY
Rubus parviflorus
Common along streams and open forests,
the Thimbleberry grows 3 to 6 ft. high.
Flowers to 2" across. Leaves often velvety
beneath.

INDIAN PINK
Silene californica
In open woods of canons. Plants up to
12" high, flowers to 11/4" broad. An
abundant genus in the west. May-June.

Vernal Fall in Yosemite National Park was named
for the lush vegetation at its base. Western Azaleas
blossom in the foreground.

MOUNTAIN PRIDE
Penstemon newberryi
On rocky ledges, 4,000 to 10,000 ft., both
in Sierra and Coast Ranges. Stems 8 to
20" high, flowers to 1 1/8" long. June-July.

BABY BLUE EYES
Nemophilia menziesii
Found frequently in moist places on
valley floors and hillsides. Stems 3 to 18"
long, flowers to 1 1/2" wide. April-July.

SNOW PLANT
Sarcodes sanguinea
One of the most spectacular Sierran
plants, the snowplant grows 6 to 15"
high. Numerous fleshy flowers on a single
stem. June-July.

VIRGIN'S BOWER or PIPE STEM
Clematis Iasiantha
The profuse flowers of this plant often
brighten an entire hillside. Flowers to
2 1/4" in diameter. In both Sierra and
Coast Ranges. April-May.

YELLOW BELLS
Fritillaria pudica
The stems of Yellow Bells are 3 to 9"
high, may bear 1 to 3 flowers 3/4" in
diameter. April-May.

CALIFORNIA DUTCHMAN'S PIPE
Aristolochia californica
A deciduous climber, Dutchman's Pipe
may twine 5 to 12 ft. high on other plants.
Flowers to 1 1/2" long. March-April.

MOUNTAIN MISERY
Chamaebatia foliolosa
A common ground cover in the Yellow
Pine belt, rarely taller than 2 ft. with 1"
flowers. Extremely pungent, also called
Bear Clover. May-July.

BLEEDING HEART
Dicentra Formosa
In shady forests of Sierra and Coast
Range; 8 to 18" high, leaves at base of
stems. Flowers to 3/4". April-June.

SPICE BUSH
Calycanthus occidentalis
Often growing in moist places in the
Coast Range and Sierra, also called Sweet
Shrub from fragrant wood. Height 5 to
9 ft., flowers 3"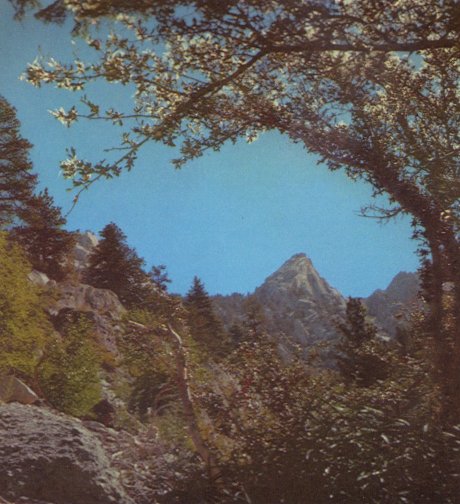 Rugged Sierran scenery is framed by Mountain
Mahogany.

BLAZING STAR
Mentzelia laevicaulis
Well-named, Blazing Stars grow on
shiny white stems, 2 - 3 1/2 ft. high in
dry stream beds. Flowers 3 to 4"
broad, in clusters.

WESTERN ASTER
Aster sp.
Asters are profuse and colorful in
many parts of the west. Their star-like
flowers make them easy to recognize.

FALSE SOLOMON'S SEAL
Smilacina amplexicaulis
These shade-loving plants are members
of the lily family. Stems leafy, 1 to 3 ft.
high. Undersides of leaves usually rough
with short hairs.

LANGUID LADY or MERTENSIA
Mertensia ciliata
Tube-like flowers are about 1/4" long on
stems 2 to 5 ft. high. In mountains
5,000 to 8,500 ft. June-August.

WESTERN CHOKECHERRY
Prunus demissa
Usually grows as a deciduous shrub 2 to 10
ft. high. Flowers 1/2" across in clusters 2 to
4" long. In Coast Range and Sierra.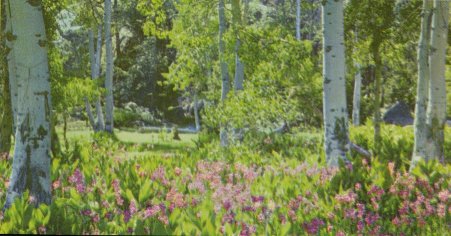 Quaking Aspens (Populus tremuloides) prefer moist areas as do
many wildflowers such as Shooting Stars.
---
Next: High Country • Contents • Previous: Foothills
http://www.yosemite.ca.us/library/wild_flowers_of_the_sierra/meadows.html