Yosemite > Library > Wildflowers > Foothills >
Next: Meadows and Valleys • Contents • Previous: Introduction
Wild Flowers of the Sierra (1958) by Douglass H. Hubbard
---
the foothills
The foothills of the Sierra are the first to be carpeted with wildflowers of countless varieties. As the foothills turn golden brown, flowers are in bloom in the meadows and valleys higher in the range. By summer's end the flowers of the high country will be at their prime.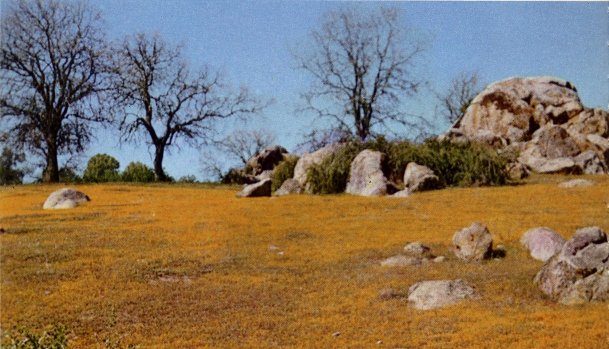 One of the largest groups of flowering plants is the sunflower family. Many California wildflowers
belong to it, including the Gold Fields (Baeria sp.), a common foothill flower.

RED MAIDS
Calandrinia ciliata
In late afternoon these
small (3/4") , bright flowers
open. Common western
wildflower 6" to 2 ft. high.
March-April.

YELLOW-AND-WHITE
MONKEY FLOWER
Mimulus bicolor
Monkey flowers come in
many colors and sizes in
the Sierra. This species is
6 to 10" high, has 1/2"
flowers.

PRICKLY POPPY or CHICALOTE
Argemone platyceras
The Prickly Poppy, well-named for
its thorny exterior, prefers dry areas.
Plants to 3 ft. high with 4" flowers.
April-July.

RABBIT BRUSH
Chrysothamnus nauseosus
A shrub common on the east side of the
Sierra, 1 to 5 ft. tall. Rabbit Brush has
flower heads up to 3" in diameter.

CALIFORNIA BUCKEYE
Aesculus californica
A foothill species 10 to 20 ft. tall with
bright green leaves. The showy flowers
grow in clusters up to 6" long. June.

FIVE SPOT or CALICO FLOWER
Nemophila maculata
The attractive Five Spot is an abundant
flower in foothill meadows. Stems 5 to
10", flowers up to 1" across. April-
August.

FREMONTIA or FLANNEL BUSH
Fremontia californica
The furry underside of the leaves of the
Flannel Bush gave it its name. Flowers
2" on shrubs usually 6 to 10 ft. tall.

CHAPARRAL YUCCA
Yucca whipplei
"The Candle of Our Lord" is the Spanish
name for the Yucca.This member of the Lily
family grows 8 to 14 ft. high. May-June.

BLUE-EYED GRASS
Sisyrinchium bellum
Small (1/2") flowers on stems 10 to 20"
high, Blue-eyed Grass is found in many
parts of the West. March-May.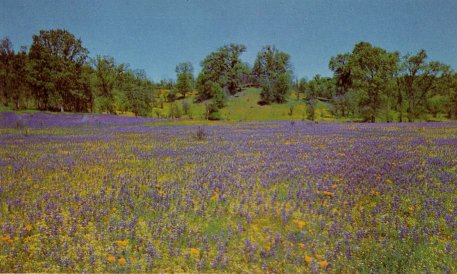 More than one hundred kinds of Lupine brighten California's fields.

CHAPARRAL PEA
Pickeringia montana
This spiny, evergreen shrub lends
bright color to the foothills. Flowers
3/4" on plants 3 to 8 ft. high. May-June.

GOLDEN YARROW
Eriophyllum confertiflorum
The flowers of the Golden Yarrow grow in
clusters which average 11/2" in diameter.
Dry area shrub 9 to 24" high. June-July.

WESTERN REDBUD
Cercis occidentalis
The Redbud is an attractive foothill
shrub 8 - 15 ft., with clusters of 1/2"
flowers. It is also called Judas Tree.
(See cover) March-April.

OWL'S CLOVER
Orthocarpus purpurascens
A bright wildflower common in open
fields and hillsides, Owl's Clover grows
4 to 15" high. April-May.

INDIAN PAINT BRUSH
Castilleia sp.
The Indian Paintbrush is a common
wildflower in many parts of the West.
Sometimes called Castilleia, its Latin
name, it grows 1 to 2 1/2 ft. high.

AMADOR DUDLEYA
Dudleya cymosa
An attractive perennial herb with
flowering stems, this succulent grows
to 12". Usually found in rocky places.
June-July.

MOUNTAIN LILY
Leucocrinum montanum
The beautiful and fragrant flowers of the
Mountain Lily grow in a central cluster
close to the ground.

SYRINGA or MOCK ORANGE
Philadelphus lewisii
The fragrant Syringa, 4 to 11 ft. tall, will
be found in many parts of California.
Shoots were used by Indians for making
arrow shafts.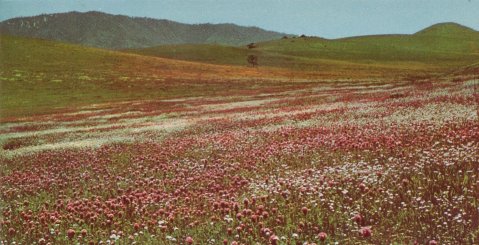 Many species of flowers including Purple
Owl's Clover and Popcorn Flowers combine to
make a colorful blanket.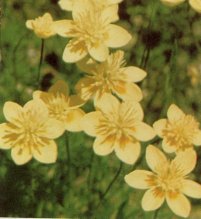 CREAM CUPS
Platystemon californicus
These flowers grow on stems 3 to 12" high
with leaves on lower portion only. In clay or
sandy soils.

BUSH LUPINE
Lupinus sp.
One of the largest lupines, the Bush Lupine,
may grow to 6 ft. high. Common along
foothills of central and southern Sierra.

WYETHIA
Wyethia helenioides
A common perennial along the lower
slopes of the Sierra, the Wyethia has
flowers up to 4" in diameter on stems 1
to 2 ft. high.
---
Next: Meadows and Valleys • Contents • Previous: Introduction
http://www.yosemite.ca.us/library/wild_flowers_of_the_sierra/foothills.html