Yosemite > Library > Wonders & Beauties > Cathedral Rock >
---
Yosemite: Its Wonders and Its Beauties (1868) by John S. Hittell
Next: Yosemite Fall • Contents • Previous: Pompompasus
---
CATHEDRAL ROCK.
A mile east of Pohono, and on the same side, are the Cathedral Rocks, which suggest the architecture of the Gothic cathedrals. Immediately behind these rocks are two "slender and beautiful columns of granite," which are about eight hundred feet high and two or three hundred feet in diameter. The summits of the rock and the spires are about 3,000 feet above the valley. The Cathedral Rocks are called, also, Poosenachucka, which means the Large Acorn Cache.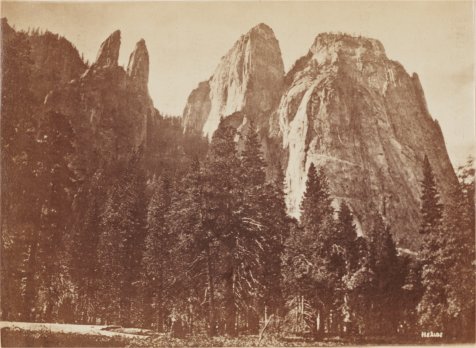 V. Poosenachucka, (Large Acorn Cache) Cathedral Rocks and
Spires, from the North-east, a mile distant, about 3,000 feet above the Valley.
---
Next: Yosemite Fall • Contents • Previous: Pompompasus
http://www.yosemite.ca.us/library/yosemite_its_wonders_and_its_beauties/cathedral_rock.html