Yosemite > Library > Wonders & Beauties > Pompompasus >
---
Yosemite: Its Wonders and Its Beauties (1868) by John S. Hittell
Next: Cathedral Rock • Contents • Previous: Tutucanula
---
POMPOMPASUS.
A mile and a half beyond Tutucanula, on the same side, is Pompompasus, or the Three Brothers, three peaks in close proximity. The Indian name means "mountains playing leap-frog," and a sight of the peaks shows the appropriateness of the title. The highest of these is nearly 4,000 feet above the valley, and from its summit, according to Mr. King of the State Geological Survey, the finest view can be had of the great chasm and of the surrounding scenery. Other observers, however, who have remained longer in the valley, and have looked upon it from more points, think the view from Glacial Rock better. The ascent of Pompompasus is difficult.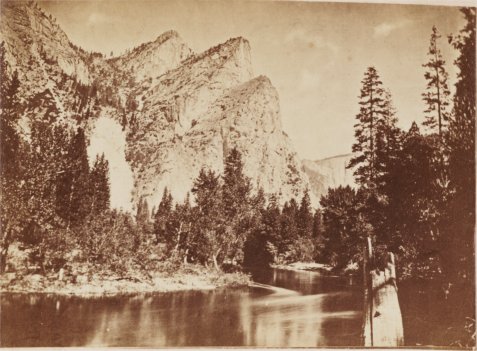 IV. Pompompasus, (Mountains playing Leap Frog)

Three Brothers,


4,000 feet above the Valley.
---
Next: Cathedral Rock • Contents • Previous: Tutucanula
http://www.yosemite.ca.us/library/yosemite_its_wonders_and_its_beauties/pompompasus.html