Yosemite > Library > Yosemite Book >
CalHotels.US Lowest Hotel Rates Guaranteed. Click Here For Yours!
Hotel photos, maps, reviews, & discount rates.
U.S. Hotels in California (Yosemite, L. A., San Francisco ), AL, AK, AR, AS, AZ, CA, CO, CT, DC, DE, FL, FM, GA, GU, HI, ID, IL, IN, IA, KS, KY, LA, ME, MD, MA, MI, MN, MS, MO, MT, NE, NH, NJ, NY, OK, NV, MH, MP, NM, NC, ND, OH, OR, PA, PR, PW, RI, SC, SD, TN, TX, UT, VT, VA, VI WA, WV, WI, WY
THE
YOSEMITE BOOK


by Josiah D. Whitney (1869)
---
---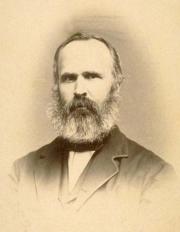 Josiah D. Whitney, 1863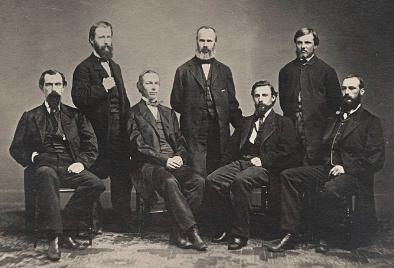 California Geological Survey, December 1863: Chester Averill, assistant, William M. Gabb, paleontologist, William Ashburner, field assistant, Josiah D. Whitney, State Geologist, Charles F. Hoffmann, topographer, Clarence King, geologist and William H. Brewer, botanist (Bancroft Library).

Josiah Dwight Whitney, Jr. was born 1819 in Massachusetts. He graduated at Yale and surveyed several areas in America and Europe as a geologist. In 1865, he was appointed professor of geology by Harvard in 1865 and received an honorary doctorate from Yale in 1870.

In 1860 Whitney was appointed state geologist of California in 1860. Whitney, along with William H. Brewer, Clarence King, Lorenzo Yates, and others, made an extensive survey of California, including the Sierra Nevada and Yosemite region. Some California legislators though his job was just discovering gold and mineral wealth in the state. Whitney would have none of that and conducted a thorough scientific survey of the state. He published a well-regarded six-volume series Geological Survey of California (1864 - 1870), and this excellent volume, The Yosemite Book, among others. It was "among the first American books devoted entirely to photographs of landscape" (Naef and Wood, Era of Exploration, 1975). In The Yosemite Book Whitney was an early voice for conservation. He was the first known person to use the term "national park" and urged the state not to deed some land in Yosemite Valley to early settlers, but to keep the entire valley as a national park. Mount Whitney, the highest peak in the continuous United States was named after him.

When John Muir arrived in Yosemite in 1869, and when The Yosemite Book was first published, the conventional thinking was that of Whitney's. That is, there were no active glaciers in the Sierra Nevada—the weather was too warm. Whitney thought Yosemite Valley was formed not by glaciers but "the bottom of the Valley sank down..." Muir discovered the first known active glacier in 1871 in the High Sierra. He also found glacier scaring and glacier moraines in Yosemite Valley. Muir published his findings and was made famous from his writings and lectures. Whitney was obstinant. He derided Muir as a "mere sheepherder" and "ignoramus." Whitney suppressed evidence found by King and Gardiner of glaciers in Yosemite Valley. But Muir's view eventually prevailed in the scientific community. Whitney died in 1896 in New Hampshire. He maintained, to his death, that not only there never glaciers in Yosemite Valley, but that no glaciers currently exist in the Sierra Nevada (even though several live glaciers have been discovered by Muir).

1868 (1869) and 1870 editions converted to HTML by Dan Anderson, April 2004 from copies at the San Diego Public Library. These files may be used for any non-commercial purpose, provided this notice is left intact.
—Dan Anderson, www.yosemite.ca.us
---
Josiah Dwight Whitney, Jr. (1819 - 1896) The Yosemite Book: A Description of the Yosemite Valley and the Adjacent Region of the Sierra Nevada, and of the Big Trees of California, illustrated by maps and photographs. (New York: Julius Bien, 1868). 116 p. 28 photographic plates. 2 maps. Hardbound in either dark red-brown or blue-green cloth, gilt lettering, and morocco leather spine [Cover image]. Quatro, 32 cm. This is the first edition, released in 1869, although the date printed is 1868. Only 250 copies of the first edition were printed, as all albumen photographs, were made and tipped-in by hand. All but four of the photographs were by landscape photographer Carleton E. Watkins.
Subsequent editions, from 1870, were published with the maps but without the photographs as The Yosemite Guide-Book: A Description of the Yosemite Valley and the Adjacent Region of the Sierra Nevada, and of the Big Trees of California. The Yosemite Valley map by Clarence King and James Gardner was replaced by a more-accurate map by Charles Hoffmann. The major revision for the 1870 edition was new material about the southern High Sierra, mostly in present Sequoia and Kings Canyon national parks, that was appended to the end of Chapter 4. The 1870 edition also added wood-cuts, but had no photographs, and the 1871 edition had no illustrations at all. The wood-cuts and additional material about the southern High Sierra has been added to the first (1869) edition presented here. The Yosemite Guide-Book was revised in 1873, and reprinted in 1874 and 1875. The maps were also corrected and updated. The 1874 edition adds a map of routes to Yosemite Valley.
The Yosemite Book is available in print-on-demand, CD-ROM, and microfilm formats from:
Octavo Corporation on CD ROM. It includes high-resolution photographs and maps, additional unpublished maps, and an excellent background commentary by Jim Snyder, Yosemite National Park Historian. See The Yosemite Book (1869) at http://www.octavo.com/editions/wtnyos/
University Microfilms International (UMI) has this book available on microfilm and print-to-order paper copy. It is part of their Western Americana series (reel 89, no. 912). Use BOD order number WB1-WA16002-001. Go to http://wwwlib.umi.com/bod/fullcite?id=98695
This book appears in the History of Photography. Monographs microfilm series by the George Eastman House International Museum of Photography (Primary Source Microfilm, 1982), reel 27, no. 290, and reel 198, no. 2138.
The University of Michigan's Making of America (MOA) digital library has images of the second edition, The Yosemite Guide-Book (1871), at http://name.umdl.umich.edu/AJL3519
You may order print-to-order copies of this book from University of Michigan from the link above.
The maps from this book, of Yosemite Valley and the Sierra Nevada, are available as a reprint from Great West Books
The second edition (Yosemite Guide Book) was reprinted in 1971 as Whitney's High Sierra in 1971 by Sentinel Publications, and illustrated with new photographs.
Bibliographies: Currey and Kruska 60; Farquhar 7a; Graff 4646; Howes W389; The Truthful lens 185.
LC call number F868.Y6 C2.
Copies of the first (1869) edition are available in several libaries, including: Bancroft (UC Berkeley), California Academy of Sciences, California Historical Society, California State Library, Sierra Club Library, UCLA, UC Santa Barbara, UC San Diego, San Diego Public Library (no maps), New York Public Library, University of Rochester George Eastman House Library, Library of Congress, Stanford, Harvard, and Yale.
---
GEOLOGICAL SURVEY OF CALIFORNIA.
J.D. WHITNEY, State Geologist
---
THE
YOSEMITE BOOK;
A DESCRIPTION OF THE YOSEMITE VALLEY AND THE ADJACENT
REGION OF THE SIERRA NEVADA, AND OF THE
BIG TREES OF CALIFORNIA,
ILLUSTRATED BY MAPS AND PHOTOGRAPHS.
PUBLISHED BY AUTHORITY OF THE LEGISLATURE.
NEW YORK, JULIUS BIEN.
1868.
---
Printed by
The New York Lithographing, Engraving and Printing Company.
16 & 18 Park Place.
---
CalHotels.US Lowest Hotel Rates Guaranteed. Click Here For Yours!
Hotel photos, maps, reviews, & discount rates.
U.S. Hotels in California (Yosemite, L. A., San Francisco ), AL, AK, AR, AS, AZ, CA, CO, CT, DC, DE, FL, FM, GA, GU, HI, ID, IL, IN, IA, KS, KY, LA, ME, MD, MA, MI, MN, MS, MO, MT, NE, NH, NJ, NY, OK, NV, MH, MP, NM, NC, ND, OH, OR, PA, PR, PW, RI, SC, SD, TN, TX, UT, VT, VA, VI WA, WV, WI, WY
http://www.yosemite.ca.us/library/the_yosemite_book/