Yosemite > Library > Tioga Road >
---
The Tioga Road; a History 1883-1961 (1961, 1980) by Keith A. Trexler
---
About the Author
Keith A. Trexler was born September 17, 1931. He was interested in ornithology and photography and joined the National Park Service. Initially Trexler was a park interpreter in Yellowstone and Yosemite National Parks. He was Chief Naturalist at Lehman Caves National Monument in 1964 (now part of Great Basin National Park, Nevada). That year he witnessed and photographed the infamous cutting down of "Prometheus," the then oldest living Bristlecone pine, at Wheeler Peak, eastern Nevada. He considered the event unnecessary, even though it was for glacier research, and later wrote about its destruction. Trexler, as Chief Naturalist, wrote a booklet in 1966, Lehman Caves: Its Human Story From the Beginning Through 1965. Trexler served in the Yosemite Museum development program "with enthusiasm" during 1967 to 1970. In 1974 he was on the Park Service's Alaska Task Force evaluating lands to divvy up between the Park Service, oil company right-of-ways, and Alaska Native corporations. Specifically, he was part of a team that conducted field research of proposed areas and eventually proposed Aniakchak, Katmai, and Lake Clark national parks or preserves. Trexler's role included rewriting master plans for the proposed parks. Trexler and others were killed in a plane crash in Alaska September 1975 during an inspection tour of proposed Lake Clark National Park.
---
Tioga Lake Dynamiting Controversy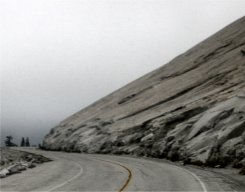 [click to enlarge]


Dynamited stretch of glacier-polished
granite on Tioga Road near Olmsted Point

Not mentioned in this Park Service-written history is the 1958 controversy over dynamiting a three-mile stretch of beautiful glacier-polished granite next to the Tenaya Lake shoreline and Olmstead Point. Photographer Ansel Adams and conservationist David Brower were particularly outspoken regarding the routing of this stretch of the road. The Sierra Club opposed the alignment, but not strong enough in Adams' and Brower's eyes.

Ansel Adams telegramed the following in 1958 to the Secretaries of Interior and Commerce and the National Park Service director:
. . . I wish to lodge a most sincere and severe protest against the desecration of Tenaya Lake—which is being perpetrated by the ruthless construction of the new Tioga Road for the National Park Service by the Bureau of Public Roads. The catastrophic damage is entirely unnecessary and violates the principles expressed in the National Part Organic Act of 1916 . . . I consider this desecration as an act of disregard of these basic conservation principles which approaches criminal negligence on the part of the bureaus concerned. I urgently request you order an immediate cessation of work on the Tioga Road in the Tenaya Lake area until a truly competent group can study the problems and suggest ways and means of accomplishing completion of this project with minimum damage. I have never opposed appropriate improvement of the Tioga Road but in 40 years' experience in national park and wilderness areas I have never witnessed such an insensitive disregard of prime national park values. (Robert Turnage, "Ansel Adams: The Role of the Artist in the Environmental Movement," The Living Wilderness (The Wilderness Society, March 1980. See also Ansel Adams, "Tenaya Tragedy," Sierra Club Bulletin 43(9):1-5 (November 1958))
David R. Brower wrote shortly before is death in November 2000:
. . . I saw the trouble begin with an earlier development policy, Mission 66, when then-National Park Service Director Connie Wirth went to the American Automobile Association, not to conservationists, for advice. What he let happen to Yosemite in the controversy over rerouting the Tioga Road was a disaster, which the Sierra Club let happen by not opposing it strongly enough. Park service people should have been jailed for what they destroyed at Tenaya Lake . . . . [I was not] successful in stopping the National Park Service from demolishing Tenaya's granite domes. I have had more than one park ranger lament how right we were to have opposed that project and how our alternative would have been better. . . " (David R. Brower, "Brower on the Yosemite Valley Plan," S. F. Chronicle, 11/20/2000)
---
Bibliographical Information
Keith A. Trexler (1931-1975), The Tioga Road; a History 1883-1961 (Yosemite Natural History Association 1961, 1980). 28 pages. Illustrated. 23 cm. Saddle stitched in paper wrappers. Bibliography. No copyright. Originally published as "The Tioga Road," Yosemite 40(3) (1961).
Digitized by Dan Anderson, June 2006 from a personal copy. These files may be used for any non-commercial purpose, provided this notice is left intact.
—Dan Anderson, www.yosemite.ca.us
---
http://www.yosemite.ca.us/library/tioga_road/