Yosemite > Library > Tioga Road > Automobiles Arrive >
Next: Reconstruction • Contents • Previous: East Side
The Tioga Road; a History 1883-1961 (1961, 1980) by Keith A. Trexler
---
Automobiles Arrive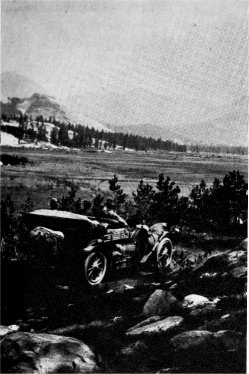 [click to enlarge]
Tuolumne Meadows, 1915, from a 1913
Pierce Arrow Touring Car, one of first to
travel the Tioga Road.
Although the first auto entered Yosemite Valley in 1900, it was not until 1913 that they were authorized legal entry. On August 16, 1913 the first auto permit was issued by Ranger F. S. Townsley. The car drove into the Yosemite Valley via the Coulterville Road (the only one open to autos) and was promptly chained to a tree. (6, 85, 86) According to Townsley, auto travel began in earnest in 1914 despite the more than 60 separate regulations aimed at limiting vehicular traffic in the park. Not only was oneway traffic the rule, but strict schedules had to be met. Fines of 50 cents per minute were assessed the hapless driver who dawdled along the way. (86) Top speed permitted, on straight stretches only, was 10 miles per hour, with 6 m.p.h. as the limit where curves were evident. (87)
In January 1915, Stephen T. Mather, an enthusiastic booster of auto travel in the National Parks, accepted the post of Assistant to the Secretary of the Interior. One of his first concerns in the new job was to make park travel easier. "A cash primer was called for to set the process off. Mather thought about this and had a familiar reaction. He hauled out his checkbook. For a curtain-raiser to his park's administration he wanted to make some noise — preferably in Yosemite, which had high hopes for 1915, California being set for two "international expositions." Casting about for an idea, he remembered the Tioga Road, a broken-down east-west thoroughfare, fifty-six miles long (and privately owned) that bisected the park. Since the Tioga Road was the only potential automobile route aross the 270 mile wall of mountain stretching from Walker Pass, back to Bakersfield, to Sonora Pass, south of Lake Tahoe, its resurrection would be both beneficial and widely acclaimed. Mather thought about all this and then began to show an inner turmoil, a characteristic mark of his approach to a weighty decision. He gave the impression of being carbonated.
His associates were startled, but when they learned what was gurgling in him, they politely pointed out that the government could not make repairs on a road it did not own, and even if it could, it would not. "I'll buy the road, have it repaired myself, and donate it to the government," said Mather. They smiled. The United States of America is not a university or charity foundation. Giving things to the government was almost as suspect as making bank deposits to the account of a Cabinet officer or placing a bomb under a Senator's front porch. Congress must examine and pass upon every gift. "All right," said Mather. "My motives are pure." He had a special provision drafted for the Appropriations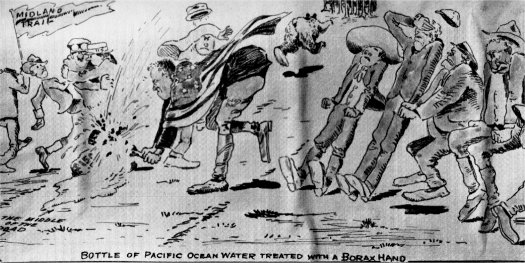 [click to enlarge]


"FIRST" DEDICATION OF TIOGA ROAD - Stephen Mather is shown breaking the
christening bottle on the $15,000 rock representing the purchase price of the road.
Those shown were at the dedication: l. to r. - Clyde Seavy, California State Board of
Control; Horace Albright, assistant to Stephen Mather; W. Gillette Scott, Inyo County
auto enthusiast and road promoter; E. O. McCormick, Southern Pacific Railroad;
Mather; Congressman F. H. Gillett; Chief Geographer Robert B. Marshall, U. S.
Geological Survey; Dr. Guy P. Doyle, Bishop; Dr. J. S. McQueen, Inyo County; Dr.
Henry Fairfield Osborn, American Museum of Natural History; Dr. S. E. Simmons,
Sacramento.

Committee authorizing the Secretary of the Interior to accept any donations of money, land rights of way, etc., for the national parks. That, he did not doubt for a moment, would do it. Fitzgerald surprised him. The Congressman, sure that only a black-hearted briber would want to donate something to the government, tore the provision up.

"Mather had to look for help to the California Senator James D. Phelan and to an old Chicago friend, Congressman William Kent, then of Kentfield, California. The two Californians, with some difficulty, managed to wheedle Fitzgerald into relaxing long enough to approve a limited provision covering gifts to Yosemite, setting Mather free finally to go ahead on the Tioga Road, which, he learned, carried a purchase price of $15,500. He made up his mind to raise as much of that as he could by subscription and to contribute the balance himself." (88)

Calling upon his friends, Mather began to accumulate the purchase price. Julius Rosenwald, a Chicago philanthropist was good for $1,000; Thomas Thorkildsen of San Francisco donated another $1,000, while the Modesto Chamber of Commerce and Sierra Club collected about $6,000. Mather donated the balance. (88) He then arranged for the Tuolumne County Surveyor to begin clearing of the old road and asked William E. Colby, his friend and fellow Sierra Clubber, to purchase the road from the Swift estate as Mather, being a government employee, was not in a position to donate the road to the United States. (89) Authorization to accept the road came from Congress on March 3, 1915 and formal title was transferred to the U. S. on April 10, 1915 for a consideration of $10. (90)

Mather next organized the first of his famous "mountain trips," outings designed to convince the influential or wealthy participants of the need for more and better National Parks. Robert Shakland's description of the group's ride up the Lee Vining grade on their way to the dedication of the Tioga Road is a classic comment on that stretch of the highway. "Coming over the Lee Vining Road, they followed an interesting road just a fraction more than one-car wide with an unfenced drop-off of as much as two thousand feet. Local men were at the wheels, and the one handling the open Studebaker that contained E. O. McCormick, Ermerson Hough, and Horace Albright had not yet, though a native, become bored with the scenery. He would glance ahead briefly to gauge the curves, then rise from his seat, twist around, stare off over the grisly precipice into the distance, and, with a hand he kept free for the purpose, point out features of the landscape. McCormick, up front, was mute with terror. In the rear, safeside door open, Albright and Hough sat crouched to leap. Albright was trying to keep one hand on the open door and one foot on the running board and at the same time hold off Hough, who was clawing at him and hoarsely whispering over and over: "G____ d____ that scenery-loving cuss, G____ d____ that scenery-loving cuss!" To their surprise, however, they made the top of the range. There Mather formally dedicated the Tioga Road to public use, breaking a champagne bottled filled with Pacific Ocean water at a spot where it would flow both east and west. The night was spent camping with the Sierra Club at Tuolumne Meadows, and the next morning the party started on its final run, to the Yosemite Valley. It broke up there on Thursday, July 29." (88)

The 1915 report of the superintendent of National Parks noted that the Tioga Road had been acquired, was being rehabilitated this summer and was formally opened July 28. "When same has been put in shape it will be the most popular pass for transcontinental tourists through the Sierra Nevada . . ." (91) During the 1915 season 190 cars entered the park via Tioga Pass and the comment was made that a visitor to the park could now travel 260 miles of road, at elevations ranging from 2,000 to 10,000 feet, for the $5.00 entrance fee. (92)

The following year 578 westbound autos checked in at Tuolumne Meadows. (93) After more than $30,000 had been spent rehabilitating the old mining road it became apparent that the route needed a thorough reconstruction, with some realignment, to bring maintenance cost down to a reasonable level. Mather asked Congress for $75,000. (94) The money not forthcoming, park officials began maintaining the road as best they could.

Gabriel Sovulewski's construction reports, 1916 to 1922 (95), helps us recreate the tremendous task of keeping the undoubtedly decrepit road in shape for auto travel. In 1916, 24 men and two teams of horses were assigned to the road which was "in many places badly washed . . . (with half mile sections) . . . almost destroyed by dangerous washouts." Yosemite Creek bridge was gone and was replaced by a "permanent" structure. In addition more than 30 trees were down across the road between Tenaya Lake and Tuolumne Meadows. By the end of the season the roadway was placed "in very good condition considering the state in which it was found in the spring . . ." The public speaks "very highly of the park roads, and there has been nothing but praise for the Tioga Road, though conditions are far from satisfactory and not as we would like to have them."

During the 1918 opening, 1200 pounds of powder was used to blast 150 trees off a five mile section of the road. Later that season damage from thunder storms was frequent and costly, nearly $6,000 being spent to keep the road passable.

By August of 1922 Sovulewski considered the road in excellent condition. However that fall, severe storms undid all the work and soon it was evident that the road was being destroyed ""faster than we could keep up with repairs." There was no question now, there must be realignment and reconstruction. Preliminary plans were laid in the late '20s, but the job would not be complete until 1961.

Meanwhile the road was in ever increasing use.

Entrance stations were set up in Tuolumne Meadows and Aspen Valley in 1918. In the same year a California Motorist article praised the road but reproduced a map showing 20 per cent grades near May Lake. Top speed on straight stretches was 20 m.p.h., with reductions to 8 m.p.h. when ascending and 12 m.p.h. when descending hills. (96)

Steve Mather's annual report for 1918 praised the road in no uncertain terms. "Again last summer did the Tioga Road amply justify its purchase and presentation to the park system. Again did it prove the need and popularity of a motor gateway to the upper wilderness . . . Fifty or sixty automobiles a day traveled the Tioga Road last season" with many drivers making the complete trip to Lake Tahoe. "It will be noticed that Yosemite National Park as a park, that is, without any special consideration or use of the Yosemite Valley, also seems to be coming into its own. This is a good sign." (97)

The Tioga Road gained popularity throughout the 1920s. Each summer the opening of the road was attended by fish fries and celebrations with local dignitaries in attendance. (98) From about 1925 onward an intense interest in earlier opening dates, mostly on the part of businessmen from east of the Sierra, began. Park Superintendents were cautious, replying that early openings were too costly when considered in terms of the price of snow removal and increased maintenance. (100)

Newspaper and magazine ads of the day, as well as government produced leaflets, entreated every citizen to visit his national parks and especially to travel "the world's greatest mountain tour through Yosemite to Lake Tahoe." (99) The finest accommodations were available on the route as well as comfortable campsites and excellent trout streams. (101)

Everything was not as advertised, however. "All motorists with camping outfits are obliged to undress completely and be fumigated for a full hour." Hoof and mouth disease had struck California and the foregoing applied to those heading into Nevada from points west. The circular to all park personnel continued, "This information should be given to those inquiring regarding conditions along the road. Giving of this information is bound to result in discouraging travel east of Tioga Pass!" (102)

Another, not quite so personal factor was beginning to discourage travel over the Tioga Road. The nation's highways were being improved and expanded at an amazing rate and the motoring public was becoming accustomed to smooth well paved thoroughfares with high gear grades and easy curves. The Tioga Road was not such a route. It remained an all-dirt road until 1937. It was as Gabriel Sovulewski put it, "only an old-fashioned wood-road."



---
Next: Reconstruction • Contents • Previous: East Side
http://www.yosemite.ca.us/library/tioga_road/automobiles_arrive.html