Yosemite > Library > Wonders & Beauties > Half Dome >
---
Yosemite: Its Wonders and Its Beauties (1868) by John S. Hittell
Next: Head of the Valley • Contents • Previous: Mirror Lake
---
THE HALF DOME.
A mile south-eastwardly from Mirror lake is the Half Dome, or Tissayac, (the Goddess of the Valley) which is shaped like half an egg bisected longitudinally, mid set on end. The height of the summit is 4,737 feet above the valley, and for 2,000 feet down from the top, the face fronting the north-west is straight and plumb, and below that point the mountain or the talus slopes down at an angle of forty degrees to the horizon. The peak is in no place more than 1,500 feet through horizontally, from north-west to south-east, the hight being considerably greater than the width in that direction. The view of the dome given by photograph was taken from the west, at a distance of three miles.
Professor Whitney speaks thus of this "truly marvelous crest of rock:"
"From all the upper part of the valley, and from the hights about it, the Half Dome presents an aspect of the most imposing grandeur; it strikes even the most casual observer as a new revelation in mountain forms; its existence would be considered an impossibility if it were not there before us in all its reality; it is an unique thing in mountain scenery, and nothing even approaching it can be found except in the Sierra Nevada."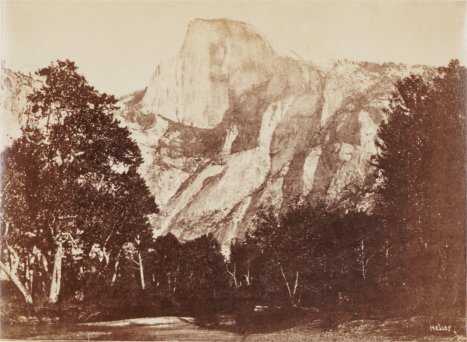 XIV. Tissayac, (Goddess of the Valley)

Half Dome,

from the West, three
miles off, 4,737 feet above the Valley.
---
Next: Head of the Valley • Contents • Previous: Mirror Lake
http://www.yosemite.ca.us/library/yosemite_its_wonders_and_its_beauties/half_dome.html