Yosemite > Library > Wonders & Beauties > Mirror Lake >
---
Yosemite: Its Wonders and Its Beauties (1868) by John S. Hittell
Next: Half Dome • Contents • Previous: North Dome
---
MIRROR LAKE.
A mile south-eastward from the North Dome, in the valley of Tenaya Creek, is Mirror Lake, called also Kekotooyem, (Sleeping Water) and Awiyah. The area is eight acres, and the depth from eight to twenty feet. The water is remarkably clear and placid, and the reflection of the Washington Column and of the South Half Dome on its surface is so nearly perfect that photographic views of them are frequently mistaken for upright views taken directly from the objects themselves. The photograph of the lake is from its western shore.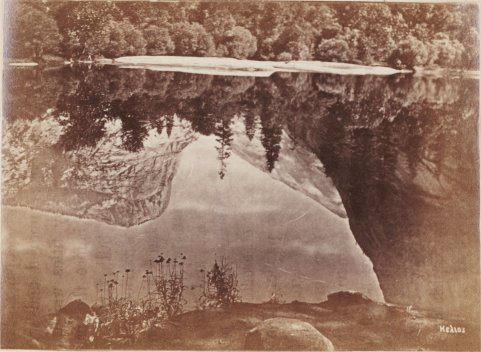 XIII. Kekootoyem, (Water Asleep)

Mirror Lake,

from the western bank.
---
Next: Half Dome • Contents • Previous: North Dome
http://www.yosemite.ca.us/library/yosemite_its_wonders_and_its_beauties/mirror_lake.html