Yosemite > Library > Up & Down Calif. >
CalHotels.US Lowest Hotel Rates Guaranteed. Click Here For Yours!
Hotel photos, maps, reviews, & discount rates.
U.S. Hotels in California (Yosemite, L. A., San Francisco ), AL, AK, AR, AS, AZ, CA, CO, CT, DC, DE, FL, FM, GA, GU, HI, ID, IL, IN, IA, KS, KY, LA, ME, MD, MA, MI, MN, MS, MO, MT, NE, NH, NJ, NY, OK, NV, MH, MP, NM, NC, ND, OH, OR, PA, PR, PW, RI, SC, SD, TN, TX, UT, VT, VA, VI WA, WV, WI, WY
---
Up and Down California in 1860-1864;
The Journal of William H. Brewer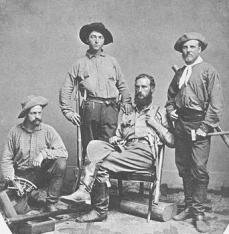 Brewer Party of 1864:
James T. Gardiner, Richard Cotter,
William H. Brewer, and Clarence King

Summary (Library of Congress)

William Henry Brewer (1828-1910) was a professor of chemistry at Washington College in Pennsylvania when he joined the staff of California's first State Geologist, Josiah Dwight Whitney, 1860-1864. On returning east, Brewer became Professor of Agriculture at Yale, a post he held for nearly forty years. Up and down California collects Brewer's letters and journal entries recording his work with Whitney's geological survey of California, chronicling not merely the survey's scientific work but the social, agricultural, and economic life of the state from south to north as the survey's men passed along.



---
Contents
Cover [image]
Book 1—1860-1861
Book 2—1861
Book 3—1862
---
Bibliographical Information
Brewer, William Henry, 1828-1910. Up and down California in 1860-1864; the Journal of William H. Brewer . . . edited by Francis P. Farquhar. . . with a preface by Russell H. Chittenden. . . 1st edition. (New Haven: Yale University Press, 1930). Francis Peloubet Farquhar, 1887-1974, editor. xxx, 601 pages. front., plates, ports., map. 24 cm. Rough cut. Blue cloth, gilt lettering on spine. Bibliographies: Howes B754 & Zamorano Eighty 9. Library of Congress Call Number F864.B75. The first printing of the first edition was October 1930 and the second printing was April 1931.
A revised (4th) edition of this book is available from University of California Press. The first edition is available on microfilm or print-to-order from University Microfilms International (UMI). It is part of their Western Americana series (reel 68, no. 673). Use BOD order number WB1-2029040-058. Go to http://wwwlib.umi.com/bod/fullcite?id=125765
Digitized by Dan Anderson, 2004. Images were scanned from a copy in the CSU Fullerton Library. The text for Up and Down California was acquired from the The Library of Congress under the American Memory online exhibit. These files may be used for any non-commercial purpose, provided this notice is left intact.
—Dan Anderson, www.yosemite.ca.us
---
CalHotels.US Lowest Hotel Rates Guaranteed. Click Here For Yours!
Hotel photos, maps, reviews, & discount rates.
U.S. Hotels in California (Yosemite, L. A., San Francisco ), AL, AK, AR, AS, AZ, CA, CO, CT, DC, DE, FL, FM, GA, GU, HI, ID, IL, IN, IA, KS, KY, LA, ME, MD, MA, MI, MN, MS, MO, MT, NE, NH, NJ, NY, OK, NV, MH, MP, NM, NC, ND, OH, OR, PA, PR, PW, RI, SC, SD, TN, TX, UT, VT, VA, VI WA, WV, WI, WY
http://www.yosemite.ca.us/library/up_and_down_california/