Yosemite > Library > Handbook >
CalHotels.US Lowest Hotel Rates Guaranteed. Click Here For Yours!
Hotel photos, maps, reviews, & discount rates.
U.S. Hotels in California (Yosemite, L. A., San Francisco ), AL, AK, AR, AS, AZ, CA, CO, CT, DC, DE, FL, FM, GA, GU, HI, ID, IL, IN, IA, KS, KY, LA, ME, MD, MA, MI, MN, MS, MO, MT, NE, NH, NJ, NY, OK, NV, MH, MP, NM, NC, ND, OH, OR, PA, PR, PW, RI, SC, SD, TN, TX, UT, VT, VA, VI WA, WV, WI, WY
Handbook of Yosemite National Park (1921) edited by Ansel F. Hall
Overview
Ansel F. Hall edited Handbook of Yosemite National Park after arriving at Yosemite in 1920. The young National Park Service was just established in 1916, and Ansel Hall, on his own initiative, established the Yosemite Museum and began continuous, innovative interpretative programs in Yosemite National Park. Various sections of the Handbook were written by specialists in various fields, such as Willis Linn Jepson's chapters on plants or A. L. Kroeber's section on Yosemite Indians. While some chapters drag on with too much detail on park telephone lines and NPS badge designs, others, such as Kroeber's "Indians of Yosemite," provide concise, authoritative information in a readable, interesting style.
Keep in mind that since this book was published in 1921, many new discoveries have been made in Yosemite Park history and science. That said, most of the ideas and facts given in the Handbook are still relevant to Yosemite National Park today.
—Dan Anderson, August 2004
---
Contents
---
About the Editor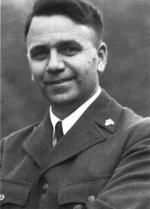 Ansel F. Hall

(Merrie Winkler Collection)

Ansel F. Hall was born May 6, 1894 in Oakland, California. He graduated in 1917 from University of California in forestry. He served first in Sequoia National Park as a ranger, then served during World War I in France. After the war, he was a park naturalist in Yosemite National Park during 1920 to 1923, when he wrote the Handbook. He established innovative interpretative program in Yosemite, started the Yosemite Museum Association, made geological models, native crafts, and mounted natural history specimens. Mr. Hall rose in the ranks as chief naturalist of the Park Service and similar positions. Ansel Hall wrote two other books on Yosemite. Guide to Yosemite (1920) describes trails in the park (98 pages and map). Yosemite Valley: An Intimate Guide (1920) is a pocket book that describes the valley for tourists (90 pages, maps, and illustrations). Mr. Hall married June Alexander in 1924, and they had 6 children, including triplets. He left the park service in 1938 to operate concessions in Mesa Verde National Park. Later he worked as a consultant in park design and interpretation and wrote books on the topic. Ansel Hall died suddenly in 1962. A biographical sketch of Ansel Hall by John Bingaman is in Guardians of the Yosemite (1961), p. 111.
Bibliographical Information
Hall, Ansel Franklin (1894-1962) Handbook of Yosemite National Park: a compendium of articles on the Yosemite region by the leading scientific authorities (New York : G. P. Putnam's Sons, 1921). 347 pp. ill. folded map. 20 cm. Brown cloth covering with ivory and black lettering and cover art. Dust jacket with green lettering and art. LCCN 21014069. Library of Congress Call No. F 868.Y6 H18
Digitized by Dan Anderson, August 2004, from a copy in the UCSD Library. These files may be used for any non-commercial purpose, provided this notice is left intact.
—Dan Anderson, www.yosemite.ca.us
---
CalHotels.US Lowest Hotel Rates Guaranteed. Click Here For Yours!
Hotel photos, maps, reviews, & discount rates.
U.S. Hotels in California (Yosemite, L. A., San Francisco ), AL, AK, AR, AS, AZ, CA, CO, CT, DC, DE, FL, FM, GA, GU, HI, ID, IL, IN, IA, KS, KY, LA, ME, MD, MA, MI, MN, MS, MO, MT, NE, NH, NJ, NY, OK, NV, MH, MP, NM, NC, ND, OH, OR, PA, PR, PW, RI, SC, SD, TN, TX, UT, VT, VA, VI WA, WV, WI, WY
http://www.yosemite.ca.us/library/handbook_of_yosemite_national_park/